Jose Canseco's Ex-Wife Reaches A New Reality Low: Find Out How!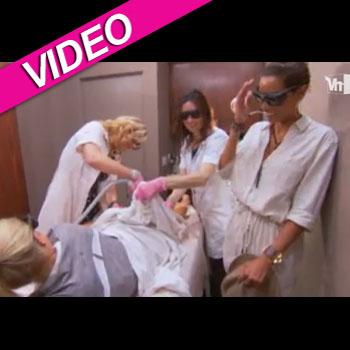 By Debbie Emery - RadarOnline.com Reporter
Former baseball star Jose Canseco likes living every aspect of his life – good or bad - in the spotlight, and ex–wife Jessica shows she is the same by letting reality TV cameras capture a VERY personal treatment.
The former MLB wife is one of the stars of a new reality show called Hollywood Exes, and in the premiere epsiode she and Eddie Murphy's ex, Nicole, enjoy a day out at the spa for a... wait for it… vaginal rejuvenation treatment.
Article continues below advertisement
"You can't hide your age with your neck but you can hide your age with your vagina," she bluntly tells the camera while having her private parts tightened, evened out and smoothed with a special laser.
Jessica justifies getting the intimate procedure by claiming it is research for the cosmetic tattooing and beauty imaging business that she runs.
"It makes everything look like a twelve year old," she gushes, trying to encourage a dumbfounded Nicole about the treatment.
"Why would you get that lasered? I have no idea. Cause nobody's looking at that!" says a confused Murphy in reply.
Single mom Canseco's excitement over her down under refreshment is only slightly dampened when she is told she can't have sex for a week afterwards.
Joining Jessica and Nicole on the cast of the controversial new VH1 show are Andrea Kelly, ex-wife to rapper R. Kelly, Sheree Fletcher, ex-wife of Will Smith, and Mayte Garcia, ex-wife of Prince.