Exclusive
Lenny Dykstra Vows To 'Destroy Jose Canseco' In Celebrity Boxing Match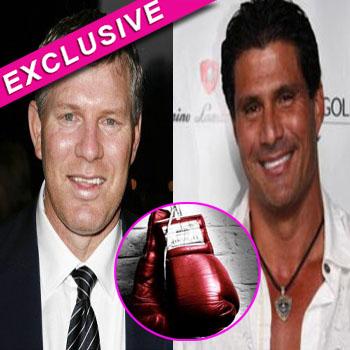 By Amber Goodhand - RadarOnline.com Reporter
Former MLB pro Lenny Dykstra plans to sock it to colleague Jose Canseco during a Celebrity Boxing Match, RadarOnline.com has exclusively learned.
"Canseco ruined my career by spreading lies. I called Tareq Salahi and begged him to let me take his place in the upcoming fight against Canseco," Dykstra said in a statement.
Alleged White House party crasher Tareq Salahi was originally slated to step in the ring with Canseco for the November 5 match.
Article continues below advertisement
Dykstra, 48, vows to "destroy Jose Canseco" now that the last minute change has been approved for Alki David's upcoming Celebrity Fight Night.
Also fighting during the November 5 event are Nadya "Octo-Mom" Suleman versus Amy Fisher, Joey Buttafuoco versus Lou Ballera, Coolio versus Jeremy Jackson, Tareq Salahi versus Kato Kaelin and Tila Tequila versus a yet-unnamed opponent.
Tickets for the match are available on the Celebrity Fight Tickets website and will air on all cable outlets offering Pay Per View at 6 p.m. PDT live from The Avalon in Hollywood on November 5.