LIVE STREAM: Celebrity Fight Night News Conference – Watch It Live!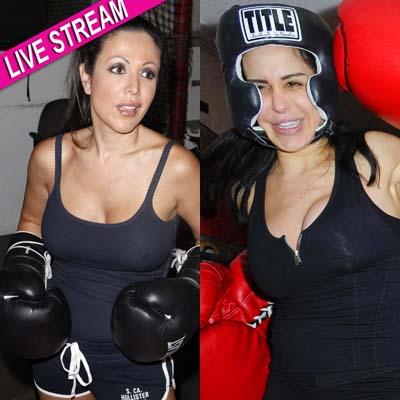 by RadarOnline.com Staff
Ali-Frazier. Tyson-Spinks. Holyfield-Foreman.
If you'd thought you'd seen every classic showdown, think again, as RadarOnline.com will be live streaming a news conference in Beverly Hills, starting at 11am PT/2pm ET for this November's Celebrity Fight Night, which features America's most famous houseguest, a spurned Real Housewives star, the first member of baseball's 40-40 club, and a woman who has 14 children, among others.
Article continues below advertisement
The match-ups for this epic, five-card bout reads as follows: Michael Lohan vs. Kato Kaelin; Tareq Salahi vs. Jose Canseco; Coolio vs. Jeremy Jackson; Joey Buttafuoco vs. Amy Fisher's husband, Lou Ballera; and Amy Fisher vs. Nadya "Octomom" Suleman.
A part of the proceeds from the event will be forwarded to FilmOn Charitable Trust, a foundation that will forward the money to several children's charities.