Burglars Caught In The Act At Boxer Manny Pacquiao's Hollywood Home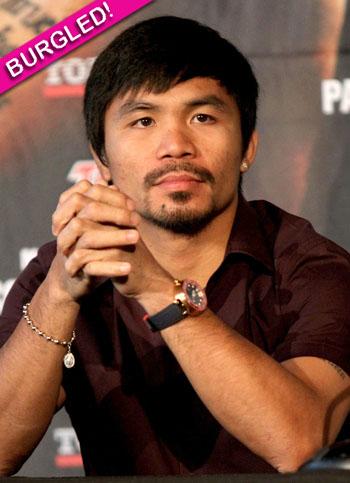 Four people were arrested on Friday after they were caught breaking into the home of world champion boxer Manny Pacquiao.
The boxer was training for a fight in his native Philippines when detectives from the Los Angeles Country Sheriff's Department, who happened to be driving by, saw the crime in progress.
A security guard on duty at the house was on his lunch break when the incident occurred.
Article continues below advertisement
"Manny is happy that nothing was stolen," said the boxer's attorney Franklin Gacal.
Manny, who is also a singer and popular personality for commercial endorsements, is set to return to the U.S to fight Juan Manuel Marquez of Mexico. That fight will take place November 12 in Las Vegas.
RELATED STORIES: