Exclusive
America's Most Shocking 'Not Guilty' Verdicts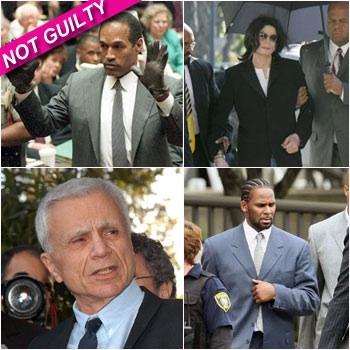 Casey Anthony's 'not guilty' murder verdict has stunned the world and now as she walks free on charges of killing her 2-year-old daughter, Caylee, RadarOnline.com is bringing you America's most shocking court case finales.
OJ Simpson
In perhaps one of the most controversial court battles of all time, the former professional football player was acquitted of murdering his ex-wife Nicole Brown Simpson and her friend Ronald Goldman in 1995.
Article continues below advertisement
The pair were killed outside Brown's home and DNA at the scene led police to believe Simpson was the assailant. However instead of turning himself in, he famously led the LAPD on a slow speed chase in his white Ford Bronco.
The 'trial of the century' lasted nine months and the defense team planted enough doubt in the jurors' minds that he was found not guilty. Simpson is however, now serving time for numerous felonies, including armed robbery and kidnapping. He was sentenced to 33 years in prison. He is currently serving his time at Lovelock Correction Center in Lovelock, Nevada.
Michael Jackson
During his life, the King of Pop faced numerous legal woes, but accusations of child molestation in 2005 topped the lot. Despite insisting he was innocent many people believed he was in fact guilty of the allegations made by Gavin Arvizo.
The verdict was a devastating disappointment for the Santa Barbara district attorney who had pursued Jackson for 12 years, since another boy, Jordan Chandler, made similar accusations.
Article continues below advertisement
Robert Blake
In 2005 the American actor was tried and acquitted for the murder of his wife Bonnie Lee Bakley. She was shot in the head, following dinner at a restaurant with Blake.
He proclaimed his innocence, but when two stuntmen, Ronald 'Duffy' Hambleton and Gary McLarty testified against him, claiming Blake tried to hire them to kill his wife, further doubt was cast upon his story. He surprisingly walked free but on November 18th 2005 he was found liable for her wrongful death after Bakley's three children filed a civil suit against him. He was ordered to pay $30 million.
John Hinckley Jr.
The verdict of 'not guilty' by reason of insanity in the 1982 trial of John Hinckley Jr. for his attempted assassination of President Ronald Reagan resulted in widespread dismay. Hinckley was obsessed with Jodie Foster and on March 30, 1981 he shot Reagan six times as he left a hotel in Washington, D.C in an effort to impress her.
He injured three other people and was charged with 13 offenses but dodged prison because of the controversial plea. He was institutionalized at St. Elizabeths Hospital and remains there to this day.
Article continues below advertisement
R-Kelly
The rapper was facing 15-years in jail on child pornography but managed to walk completely free. He was accused of videotaping himself having sex with an under-age girl, his goddaughter. The tape was then sent to the Chicago Sun-Times who handed it over to the police.
Kelly insisted it was not him in the footage. The jury found him not guilty but some jurors later spoke to the press and admitted while they thought it was him they were unsure as to the girl's identity and were therefore unable to prove he was having sex with an underage girl.