Exclusive
Robert F Kennedy Jr. Sent Daughter To Live With Girlfriend Cheryl Hines Following Her Mother Mary's Suicide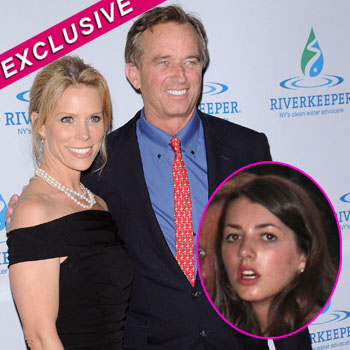 Article continues below advertisement
"Kyra took the news of her mother's death very, very hard," a source tells RadarOnline.com. "She started going off the rails a bit and the family was concerned over what she would do, how it would all play out. The last thing the Kennedys wanted was another embarrassing scandal, so, Robert decided the best move was to pack her off to live with Cheryl in L.A., away from her friends and any bad influences."
It was a controversial decision because, as RadarOnline.com previously reported, Mary was very upset, near the time of her suicide, that Robert was involved with the Curb Your Enthusiasm beauty.
"It was very tough for Mary to deal with Robert dating someone else," a close source previously told RadarOnline.com. "And it really didn't help that the new woman is a celebrity. She would see photos of the two of them together and it would drive her nuts. I think, deep down, she had still harbored a belief they would get back together but it had recently become blindingly clear that wasn't to be."
Article continues below advertisement
However, another source, close to the Kennedy clan, tells RadarOnline.com exclusively that it's no surprise to them that Robert would make such a decision.
"It is absolutely typical of Robert to do something like this," the source opines. "One sniff of trouble or hardship and he washes his hands of the potential nightmare. Shipping Kyra off to live with Cheryl is a great way to get on with his life everyday without having to worry about his heartbroken daughter.
"It wouldn't even have crossed his mind that it might be difficult for Kyra to deal with, living with her father's girlfriend while she is trying to grieve over her mother's suicide. It also probably wouldn't have been a consideration that maybe his daughter really needed to be surrounded by her own family while she tried to work though her emotions. It really is proof, that in typical Kennedy fashion, this guy completely lacks in sensitivity."
Article continues below advertisement
A source close to Hines confirms that Kyra was sent to live with the actress, but explains that Robert honestly thought it was the best move for his teenage daughter.
"Cheryl is a complete sweetheart and she is a great mother," the source says. "She has a very calming manner and is very upbeat and positive, so it is a great environment for Kyra to be in.
"Robert thought a change of scenery was exactly what Kyra needed, and it does appear that she's stopped acting up. He travels to see Kyra as much as possible, but is mainly tied up with work on the east coast, so it's a great relief for him to know his daughter is being cared for by Cheryl.
"You have to remember too, Cheryl only started dating Robert after he split from Mary. They may not have been officially divorced at the time of Mary's death but they were working towards that and had been estranged and living separately for a long time."
Cheryl is a mother to daughter, Catherine Rose, 8, from ex-husband Paul Young. Talking about her parenting skills to People magazine last year, the 47-year-old said: "My main concern is that she's true to herself and isn't influenced by other kids. I want her to make decisions that are right for her. I feel like right now the kids are getting cliquey. I don't love that. I'm trying to pin it down to avoid it being an issue later."
Article continues below advertisement
Meanwhile, as RadarOnline.com exclusively reported, Mary's headstone has finally been placed on her gravesite five months after her burial.
The headstone simply says 'Mary Richardson' on one line and then in a larger size her married last name, 'Kennedy' - the only other inscription is her date of birth and date of death.
In front of the headstone is a Blessed Mother Mary statue, a St. Francis statue and hidden in the flowers a small elephant statue.
Mary is buried in the St. Francis Xavier Cemetery in Centerville, Mass. and they confirmed to RadarOnline.com that the headstone was placed approximately two weeks ago.
A local resident who recently visited the cemetery, and took the photos exclusively obtained by RadarOnline.com, says that she was "shocked" by the location of Mary's grave and by the lack of any inscription celebrating the life of the mother of four.
Article continues below advertisement
"The gravesite is at the front of the cemetery but in an area not well kept at all," the resident says. " So anyone that goes there has no privacy. You can see it from the road either driving or walking. The last picture shows the headstone facing in the opposite direction of the other graves in the area.
"On the other hand the other deceased family members' graves are surrounded by shrubs in a beautiful area. Mary's grave even though close to the front is isolated from the nicest areas with green grass etc. It is so sad and lonely. And how about the stone? Nothing except birthday, date of death and name. No 'beloved' or 'loving daughter,' 'mother' anything. Disgusting. I never even met her but she sure deserved better than this. It's truly shocking and very sad."