Exclusive
Mary Richardson Kennedy's 'Sad & Lonely' Gravesite, See The Tombstone Devoid Of Any Celebration Of Her Life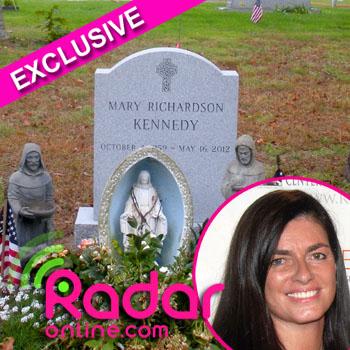 Article continues below advertisement
Robert F. Kennedy Jr.'s estranged wife is buried in the St. Francis Xavier Cemetery in Centerville, Mass. and they confirmed
to RadarOnline.com that the headstone was placed approximately two weeks ago.
A local resident who recently visited the cemetery, and took the photos exclusively obtained by RadarOnline.com, says that she was "shocked" by the location of Mary's grave and by the lack of any inscription celebrating the life of the mother of four.
"The gravesite is at the front of the cemetery but in an area not well kept at all," the resident says. " So anyone that goes there has no privacy. You can see it from the road either driving or walking. The last picture shows the headstone facing in the opposite direction of the other graves in the area.
"On the other hand the other deceased family members' graves are surrounded by shrubs in a beautiful area. Mary's grave even though close to the front is isolated from the nicest areas with green grass etc. It is so sad and lonely. And how about the stone? Nothing except birthday, date of death and name. No 'beloved' or 'loving daughter,' 'mother' anything. Disgusting. I never even met her but she sure deserved better than this. It's truly shocking and very sad."
Article continues below advertisement
Mary's journey to her final resting place has been much like the tragic last days leading up to her suicide - full of drama and unrest.
As RadarOnline.com previously reported, in a shocking move, following Mary's burial, Bobby had her body dug up and moved from its original grave site and reburied in a much more remote location of the cemetery, causing her family much anxiety.
"We were unaware of this," said attorney Patricia Hennessey, who represented the Richardsons in their attempt to have Mary buried closer to her children's year-round home in Westchester County, New York.