Conor Kennedy's Grandma Approves! Ethel 'Loves' Taylor Swift, 'They're Fascinated By Each Other'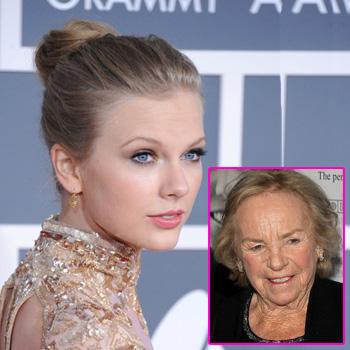 Taylor Swift and Conor Kennedy's summer romance has the blessing of the beloved Kennedy matriarch, RadarOnline.com is reporting.
Ted Kennedy Jr. has revealed that the 22-year-old country singer has grown close to Robert F. Kennedy's widow, Ethel, who is the subject of a new documentary titled Ethel.
"She's a very open person…to people of all generations. As I just said, she's a very welcoming person and she and Taylor have a genuine friendship. They love spending time together. They really like spending time with one another and, you know, they're fascinated by each other," Ted told OK! magazine at the New York City premiere of the HBO special.
Article continues below advertisement
"I think Ethel makes her feel very at ease. You know, Taylor lives in a world – she's obviously achieved incredible success and the people who live in that world, some people just like to hang out and relax and let their hair down and I think Ethel makes that possible. I think it's as simple as that."
When asked if Ethel listens to Taylor's music, Ted was quick to respond: "Yeah, she does. Of course!"
Rory Kennedy, Ethel's youngest child in a family of 11, and the documentary's director was also willing to talk about her 84-year-old mom's love for the We Are Never Ever Getting Back Together singer.
"She loves Taylor Swift! And Taylor Swift loves my mother. It's not surprising actually. They have a lot of similar qualities and, you know… Anyway, I'm a huge fan of hers and I have two young daughters and, you know, they love her," she told Ok! magazine. "I'm very familiar with her music, very familiar with the lyrics and she's a great role model."
Article continues below advertisement