Rich People Don't Pay! Mary Richardson and Robert F. Kennedy Jr. Remodeled Green Home For Free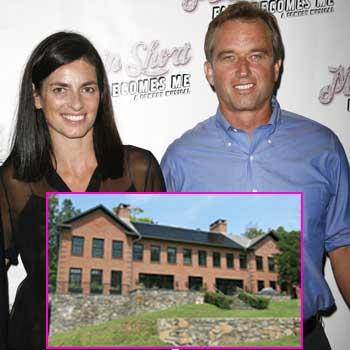 The rich always seem to get things for free, and in the case of Robert F. Kennedy Jr. and his late wife Mary Kennedy Richardson it was the remodel of their "green home" that they got completely free of charge!
Years before her tragic suicide, Mary and Bobby embarked on a mission to gut and rebuild their sprawling estate in Bedford, New York, but despite the Kennedy family millions they were able to get $1.3 million worth of products and designs for nothing.
Article continues below advertisement
After their home flooded in 2003 and became infested with mold, Mary, an architect, worked with interior designer Robin Wilson to craft "a plan to raze it and rebuild with as little outlay as possible," the NY Post reported.
Robin wrote a book about the project titled Kennedy Green House. She said in her book the family was financial "squeezed" and lived in a rental home during construction.
The couple and the designer apparently asked contractors and vendors to donate their services or slash their rates "for the promise of free publicity. There were offers of "platinum sponsorships" and talk of tours to showcase the mansion and its products."
Television host Bob Vila even filmed a show about the construction called Our Green House for NBC but the show never aired.
The Kennedys apparently didn't pay for "high-end kitchen appliances, dual-flush toilets, solid brass and zinc faucets, hardwood flooring and hypoallergenic rugs when they created their eco-friendly Westchester mansion. Even the bamboo hangers and the cleaning products were free!"
Article continues below advertisement
A source said the son of Ethel and Robert F. Kennedy Jr. felt like he was deserved the home improvement freebies. "He didn't think he should pay for anything; even the suits he wears were donated. He felt people should pay for him. He had an enormous sense of entitlement."
According to the newspaper, the family got a tax deduction when they donated the remains from the old house to a non-profit organization. Records show that the cost of the renovation project was $2.5 million but "It's unclear if that includes all the freebies the family got."
Arnold Schwarzenegger & Maria Shriver Can't Sell Sprawling Ranch: Take A Peek Inside!