Robert F. Kennedy Jr. Gets Frisky On The Beach With Girlfriend Cheryl Hines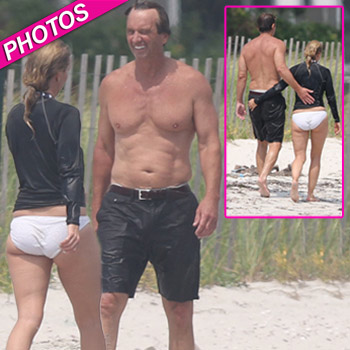 Article continues below advertisement
Also attending their love fest was Bobby's cousin Maria Shriver, who rocked a black one piece bathing suit.
Cheryl and Bobby were very affectionate, walking on the sand with their arms around each other after swimming in the ocean.
Hines, 46, divorced her husband in 2010 and was seen publicly with Robert F. Kennedy Jr., despite the fact that he was still married to the mother of his four children.
Their relationship devastated Mary a source told RadarOnline.com.
"It was very tough for Mary to deal with Robert dating someone else," the source says. "And it really didn't help that the new woman is a celebrity. She would see photos of the two of them together and it would drive her nuts. I think, deep down, she had still harbored a belief they would get back together but it had recently become blindingly clear that wasn't to be."
Article continues below advertisement