Kennedy Feud Rages: Caroline Says Family 'At Its Lowest Point Ever'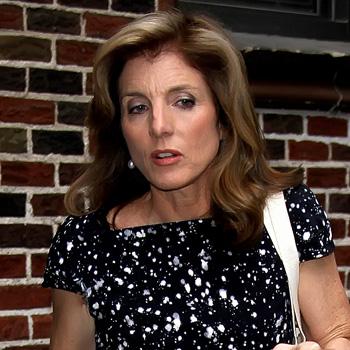 Caroline Kennedy is feuding with her relatives and the daughter of the late President feels that the family dynasty "is at its lowest point ever."
The 54-year-old daughter of Jacqueline and John F. Kennedy is furious with her relatives an insider told the National Enquirer.
After her cousin Kerry Kennedy was arrested in New York for allegedly driving under the influence of drugs after she hit a tractor-trailer and fled the scene, say authorities. The Kennedy family immediately tried to influence the case by ordering their own battery of tests to show that Kerry was not under the influence of drugs or alcohol.
Article continues below advertisement
"They act like some organized-crime family," fumed a law enforcement source. "They come out playing hardball with bare knuckles."
And Caroline is up in arms.
"The bust is the latest in a series of crazy public meltdowns, and Caroline is determined to rein in her family to save their name," said an insider.
"She read Kerry the riot act and is calling the family together to lecture them on cleaning up their act. She's furious that some of them don't seem to care about future generations of Kennedys, who she hopes will go on to do great things like her dad JFK and Kerry's father."
In addition, the tragic suicide of her cousin Robert F. Kennedy Jr.'s wife Mary Richardson Kennedy has Caroline reeling.
"She was sad and sickened at the news," said the source. "She'd tried to counsel them both and was rebuffed.
"Caroline feels the family is at its lowest point ever. Being compared to a crime family is the saddest, most disgraceful thing she has ever heard, and she is hopping mad."
For more details pick up the latest issue of the National Enquirer on newsstands Thursday.