Move Over Arnold & Maria: Other Past Kennedy Scandals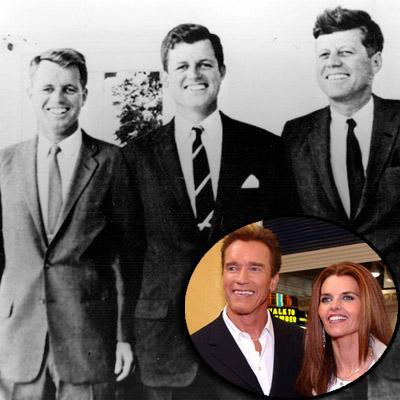 The bombshell revelation that Arnold Schwarzenegger fathered a child out-of-wedlock with a housekeeper, behind Maria Shriver's back, is hardly the first scandalous news involving the Kennedy family's hallowed name.
Here's a few others, just in case you forgot:
On July 19, 1969, on the island of Chappaquiddick, the body of campaign staffer Mary Jo Kopechne was found in Ted Kennedy's car after the politician drove off a bridge. Ted pleaded guilty to leaving the scene of an accident after causing injury, and the incident was cited by many as the reason he'd never run for president.
Article continues below advertisement
President John F. Kennedy was rumored to have had an affair with Hollywood icon Marilyn Monroe in the early 1960s.
Kennedy nephew William Smith was accused of rape 20 years ago with a woman he met at a club. The televised trial gained notable attention, as his accuser's face was blurred out by a blue dot, which became a pop culture punchline. Smith was acquitted in the case.
In 1997, Michael Kennedy was accused of an ongoing affair with the family's babysitter, who was just 14 at the time it allegedly began. The girl never pressed charges, and Kennedy died later that year in a skiing accident.
It's not just the Kennedy men caught with their pants on the ground: Robert Kennedy's daughter Kerry in 2003 divorced husband Andrew Cuomo, her husband of 13 years and father of her three kids, in the wake of whispers she'd been cheating on her husband with Bruce Colley, a rich restaurateur.
Stay with RadarOnline.com for more details in this story as they break.
RELATED STORIES: