Inside The Tragic Curse Of The Kennedy Family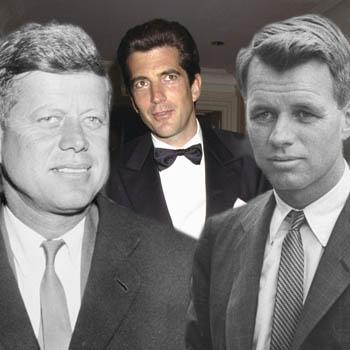 Article continues below advertisement
Mary's death is yet another blow to the family who has endured such a string of heartbreaking events over the decades that it has sparked the phrase "The Kennedy Curse."
The bad luck can be traced back to the 1940s with Rosemary Kennedy (JFK's sister), who was born mentally challenged and began suffering from such increasingly violent mood swings that at age 23 she was given a lobotomy and remained institutionalized until her death.
Joseph "Joe" Kennedy Jr. was John's older brother and expected to be the political face of the family, but before he could run for office the dashing pilot was shot down and killed in action during World War II while stationed in England.
After their fairytale wedding in September 1953, John F. Kennedy and Jacqueline Bouvier suffered double heartbreak when their daughter, Arabella, was stillborn in 1956, followed by their son, Patrick, dying at just two days old in August 1963 from infant respiratory distress syndrome.
Article continues below advertisement
The most infamous example of the curse is the assassination of President John F. Kennedy who was shot and killed while traveling in a motorcade through Dallas, Texas, on November 22, 1963. An investigation by the Warren Commission concluded that he was killed by lone gunman Lee Harvey Oswald, but there have been countless conspiracy theories over the decades that have suggested a plot or a cover-up.
Just like his older brother, presidential hopeful Robert F. Kennedy was assassinated at the California presidential primary at the Ambassador Hotel in Los Angeles just after midnight on June 5, 1968 by shooter Sirhan Sirhan, a 24-year-old Palestinian-born Jordanian. Bobby died the next morning at a local hospital.
JFK's youngest brother, Edward "Ted" Kennedy had more than his fair share of dark events in his life. After surviving a small plane crash in 1964 that killed the pilot and one of his aides, the senator suffered chronic back pain for years. In 1969, his reputation and political aspirations were ruined by what has become known as the Chappaquiddick Incident when he drove off a bridge in Martha's Vineyard, Massachusetts, with 28-year-old Mary Jo Kopechne in the car. Kennedy escaped and fled the scene of the accident but his pretty young passenger drowned, he was later given a two month suspended sentence for his irresponsible actions. Ted died of brain cancer on August 25, 2009, at his home in Hyannis Port, Massachusetts two weeks after the death of his sister Eunice.
Article continues below advertisement
David Kennedy was the fourth of 11 children fathered by Robert F. Kennedy and endured a traumatic childhood that included almost drowning at age 12, then the next night watched a television broadcast reporting his father's assassination just moments after it was announced that he had won the California presidential primary election. The devastating incidents left the boy emotionally scarred and he began a lifetime of recreational drug use soon afterwards. Following addictions to prescription drugs and heroin, heart problems, two overdoses, a stint in rehab and a DUI, David, 28, was found dead in a Brazilian hotel room from an overdose of cocaine and Demerol.
David's younger brother, Michael LeMoyne Kennedy, was killed in a bizarre accident at age 39 in 1997 in Aspen, Colorado, after fooling around on the slopes with a football with several family members that led him to ski into a tree.
The curse of his father's generation was sadly passed down to John F. Kennedy Jr., who lost control of the small plane he was piloting to a wedding in Martha's Vineyard on July 16, 1999, sending the plane into the dark water off the coast of Massachusetts. John-John, his wife Carolyn and sister-in-law Lauren Bessette were all killed in the accident.