Jacqueline Kennedy's Secret Audio Interviews After JFK's Assassination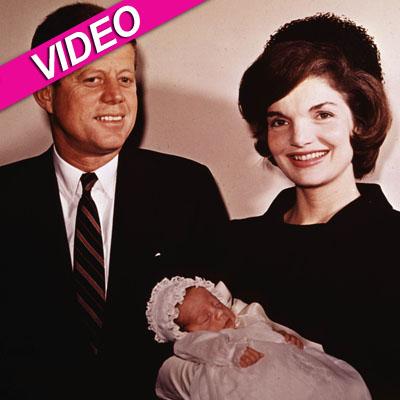 A set of previously-unheard audio interviews with former First Lady Jacqueline Kennedy are been released to the public this week in tandem with a new book -- Jacqueline Kennedy: Historic Conversations on Life with John F. Kennedy -- and Monday morning, ABC News played parts of the tapes.
The interviews -- which were sealed by the Kennedy Library prior to now -- were recorded with White House aide/Kennedy family friend Arthur M. Schlesinger Jr. just four months after former President John F. Kennedy's November 22, 1963 assassination.
Article continues below advertisement
In one sequence of the never-heard-before tapes, Jacqueline recalls how she pleaded with her late husband that she wanted to stay by his side during the tense days of the Cuban missile crisis, with nuclear war a real and scary possibility.
Jacqueline said she told her husband, "Please don't send me anywhere. If anything happens, we're all going to stay right here with you...
"I just want to be on the lawn when it happens -- you know -- but I just want to be with you, and I want to die with you, and the children do too -- than live without you."
Watch the video on RadarOnline.com
Jacqueline died on May 18, 1994, at her New York home after battling cancer.
Jacqueline Kennedy: In Her Own Words, hosted by Diane Sawyer, airs Tuesday at 9/8c on ABC; the book hits stores Tuesday.