PHOTOS: Tom Cruise & Katie Holmes At World Premiere Of The Kennedys -- How Katie Transformed Into Jackie O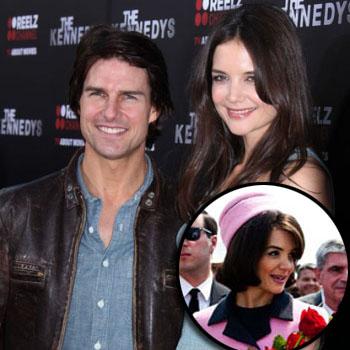 Tom Cruise and Katie Holmes walked the red carpet in Beverly Hills, CA. Monday night for the world premiere of the controversial miniseries The Kennedys, and to mark Kate's turn as the iconic First Lady, RadarOnline.com is taking a look at Katie's transformation from Dawson Creek cutie to style icon in her own right.
With her bobbed brown hair, pearls, pill box hat and proper attire, the former Dawnson's Creek star bares a striking resemblance to the one and only Jacqueline Bouvier Kennedy Onassis, who she is playing in the TV miniseries, The Kennedys.
Article continues below advertisement
But ditching her jeans and gym wear in favour of the ladylike wardrobe of the President's wife, wasn't the tough part for Katie, who admits taking on the character was the most intimidating part.
"It's been amazing and a little overwhelming because she is such an icon and so important to our country and so many people have fun memories of her," she said. "In doing the research, I learned so much about her and my adoration for her only grew, so it's been really fun. It's always great to play a character that you love."
Katie has been snapped on the set of the miniseries - in which she stars alongside Greg Kinnear - in an abundance of clothing imitating the first lady's favorites.
But possibly the most shocking promotional picture is the image of her wearing the hot pink suit, identical to the one she wore when John F. Kennedy was shot.
Mrs. Tom Cruise isn't the only brown eyed beauty to play Jackie O however. RadarOnline.com also has photos of some of the other impressive transformations.
Article continues below advertisement
Blair Brown starred alongside Martin Sheen in the 1983 production of Kennedy, Roma Downey depicted her in the 1991 TV mini-series A Woman Named Jackie and Brit Joanne Whalley starred in the Jacqueline Bouvier Kennedy Onasis: A Life in 2000.
Even Sarah Michelle Gellar played her, but as a teenager in the 1991 series A Woman Named Jackie and Jeanne Tripplehorn pulled off the hot head scarf and oversized sunglasses to play her in the documentary, Grey Gardens.
Holmes' controversial miniseries -- which was originally scheduled to air on The History Channel -- is set to screen now on the Reelz Channel on April 3rd.
RELATED STORIES: