New Details In The Suicide Of Mary Richardson Kennedy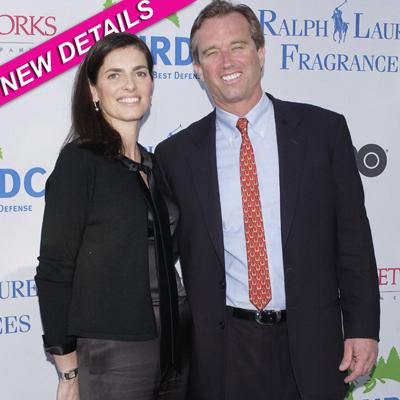 Coroners in New York will conduct an autopsy on Mary Richardson Kennedy Thursday, in the wake of the 52-year-old architect's tragic suicide, which RadarOnline.com was first to report.
While officials have not released the cause of death, RadarOnline.com has confirmed the mother-of-four hanged herself, and her body was found by a worker in a barn at her suburban New York City home.
Mary, Robert Kennedy Jr.'s estranged wife, was "extremely down, depressed and despondent" about her future, particularly in dealing with money issues, a source told RadarOnline.com.
Article continues below advertisement
"I spoke to Mary on Monday and she sounded extremely down," the source said. "She was very depressed and despondent and worried about the future.
"Mary said she was facing financial ruin, with American Express coming after her hard for an outstanding debt, along with several other creditors. In addition, she was concerned that Robert was about to substantially reduce the amount of financial support he gave her and she was terrified she would have to file for bankruptcy and lose her home."
In recent years, her issues with drugs and alcohol became public after a pair of arrests: for driving while intoxicated in May 2010, three days after Robert filed for divorce; and later that year for driving under the influence of drugs, though that charge would be dismissed.
"Mary has struggled with alcoholism throughout her life," her friend told RadarOnline.com <>. "She had been hitting the bottle again pretty heavily recently.
Article continues below advertisement
"When I heard the news that she may have taken her own life I was devastated, but not that surprised. It was in the back of my mind that she may do something like this, and that was compounded by the conversation I had with her Monday. However she died though, this is an absolute tragedy. Mary was an amazing and beautiful person and she absolutely adored her children. It is a devastating loss to all that knew her."
Mary was also upset Robert was involved with Curb Your Enthusiasm beauty Cheryl Hines.
"It was very tough for Mary to deal with Robert dating someone else," the source says. "And it really didn't help that the new woman is a celebrity. She would see photos of the two of them together and it would drive her nuts. I think, deep down, she had still harbored a belief they would get back together but it had recently become blindingly clear that wasn't to be."
Article continues below advertisement
The Kennedy family said in a statement Wednesday that Mary "inspired our family with her kindness, her love, her gentle soul and generous spirit.
"Mary was a genius at friendship, a tremendously gifted architect and a pioneer and relentless advocate of green design who enhanced her cutting edge, energy efficient creations with exquisite taste and style."
Mary married Robert, the nephew of the late President John F. Kennedy, in 1994 on a boat coasting in the Hudson River Valley.