Kelsey Grammer's New Wife Kayte: Love Helped Me Overcome Tough Times In Relationship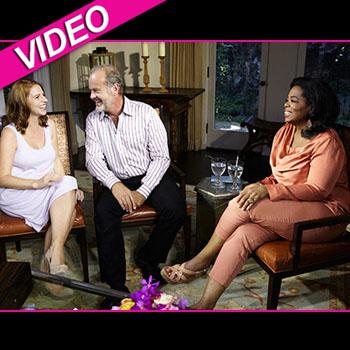 Article continues below advertisement
The former flight attendant, who met her now-husband working a Los Angeles to London flight, said the hardest part of her marriage to the 57-year-old Cheers star is people judging her "and not knowing anything about the truth … just marriage is hard, generally."
Asked if she was aware of Kelsey's presence on The Real Housewives of Beverly Hills, she said she understood that Kelsey had given it to Camille as a way to soften the rough end of their crumbling marriage.
"I mentioned I was doing that as a going-away present," the Boss star interjected.
"I don't know -- I think the more you're with someone and you fall in love with them, you say, 'How could I have been in this situation?" Kayte wondered aloud. "How could he have done a reality show when he was saying he loved me and all this stuff?"
On a lighter note, Kayte, who has a daughter with Kelsey named Faith Evangeline Elisa, told Oprah that "motherhood feels great … she's a really good baby."
Article continues below advertisement