Can't Keep The Mrs. Holding! Kelsey Grammer Takes Call From Wife Kayte During Press Conference!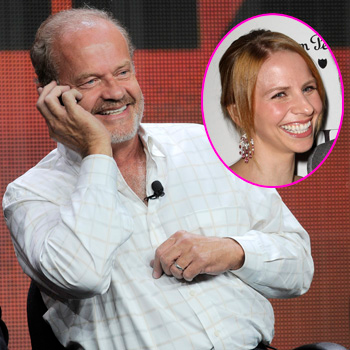 Kelsey Grammer is a man that clearly has his priorities straight!
The new dad promptly called a halt to a press conference Thursday to take a very important call live on stage -- from his wife Kayte.
The actor, 57, was embarked on a promotional Q & A session for the second season of his hit show The Boss when the call came in and he immediately switched gears, announcing to the crowd of reporters, "I have to answer this for one second."
Article continues below advertisement
"Hi, OK, cool. I'm on stage right now, but go ahead," Kelsey was heard saying.
"Oh, that sounds great," he continued. "You know what? They should bring the trucks… OK, all right honey. Call Stan though."
Grammer later talked about his decision to take the call, explaining that Kayte and his precious new daughter, Faith, are now his number one priority in life.
"There are some things that are more important than others and the well-being of my wife sits atop the charts," he said.