Exclusive
Lawyer Bringing FBI In To Investigate Ponzi Scheme That Cost Kelsey Grammer $1 Million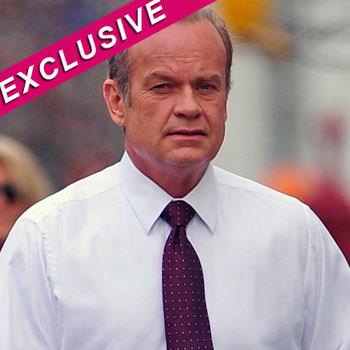 Article continues below advertisement
DOCUMENTS: Richard Lewis Files Amended Complaint In Staropoly Lawsuit
As previously reported Grammer and others are being sued by television actress Lydia Cornell, former star of Too Close for Comfort, and several others for grand theft, fraud and extortion. The Frasier star was recently added as a defendant to the $100 million, 27-count lawsuit that targets more than 100 defendants, including several of his companies.
The suit centers on a website called Staropoly.com, and its parent company TODHD. Staropoly used Grammer's name and likeness and defendant Alex Varonos pitched it as the "first branded social network" and "Kelsey's Network."
Attorney Richard Lewis, a plaintiff in the suit, swears he is now bringing law enforcement agencies into the action. RadarOnline.com exclusively obtained his declaration:
"I Richard Lewis, ESQ, Pro Per, now inject the CIVIL RICO ACT...to the first amended complaint. As such I will be taking on the duties of the Private Attorney General, for which I will be in strict communications with the FBI, U.S. Attorney office, Homeland Securty, the CIA, Secret Service, State Attorney, District Attorney for LA County, and any other local government agencies. For the Citizens of the United States of America, and The Citizens of California ex rel."
Article continues below advertisement
The declaration and the lawsuit do not explain the strange reference to the CIA and Homeland Security!
Lewis mentions the RICCO act, which stands for Rackateer Influenced and Corrupt Organizations Act and is used to prove an organization is a criminal enterprise.
The suit was originally filed last year and it is not clear why Grammer was added as a defendant last month. But it is exceptionally clear that his legal team is ready for a fight.
Singer previously told RadarOnline.com: "Any claims filed against Kelsey Grammer concerning Starpoly are absurd and without merit. Kelsey has been substantially damaged in this venture, and in fact lost $1 million of his own money. Kelsey received nothing from the venture, monetarily or otherwise.
"Kelsey has not been contacted by any of the attorneys in the lawsuit, not been served and has not been contacted by any governmental agency. If Alex Varonos told people that TODHD was Kelsey's network, then it was done without Kelsey's authorization, and against Kelsey's strenuous objections."
Article continues below advertisement
Meanwhile, a source tells RadarOnline.com: "There is no way that Kelsey would ever be part of anything that would defraud anyone of money, or be involved in anything sinister or illegal. It's just not who he is.
"Kelsey is extremely trusting and an honest person. Kelsey has integrity and is just sick about the entire matter, but he is absolutely a victim in this."
The suit contends that plaintiff Lewis, "had a personal contact with Grammer who touted Staropoly as an excellent business opportunity."
It also says that Cornell and the other plaintiffs all "entered into agreements with the Defendants in good faith and in reliance on the celebrity of Grammer, who was widely advertised as a channel holder, 'partner' and promoter of TODHD and Staropoly…Grammer's name and face was a prominent feature as though Plaintiffs would receive some special affiliation with Grammer.
The next hearing will take place on July 27.