Ruth Madoff Asked Bernie, 'What's A Ponzi Scheme?,' As He Confessed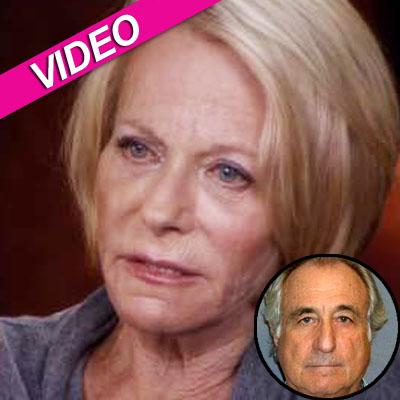 Ruth Madoff didn't even know what a ponzi scheme was until her husband Bernie came clean to the family about his $65 billion con in 2008, her son Andrew told 60 Minutes Sunday, where he and his mother discussed the family's fall from high society power brokers to shame, jail and suicide.
Ruth, 70, told Morley Safer her life has been forever changed the past three years, as she "can barely walk down the street without worrying about people recognizing me."
Article continues below advertisement
She insisted she had no knowledge her now-incarcerated husband was perpetrating America's worst ever financial scam.
"I trusted him -- 'Why would it ever occur to me that it wasn't legal?" she said. "The business was -- his reputation was almost legendary. Why would I ever think that there was something sinister going on?"
Andrew, 45, said he didn't understand -- but deeply resented -- why Bernie recruited he and his late brother Mark into his tainted business.
"That's something that -- that I really agonize over, as a son," he said. "What my father did was so horrible. It's hard for me to understand that and I'm not any closer to understanding it now than I was three years ago."
Andrew said he felt that he and his brother "had been used almost as as a human shield by" their father.
"It's unforgivable," he said. "No father should do that to their sons."
The family laid out the events of the December 2008 day Bernie came clean to them.
Article continues below advertisement
"He called from the office and said, 'I'm coming home with the boys, I have something to talk about,'" Ruth remembered. "Came in, we went into a room, four of us, and he said, 'I have a confession to make. I've been running a Ponzi scheme ... $50 billion dollars.'"
Andrew recalled the details of the shocking confession.
"He said, 'Everything I've been doing is all a big lie,'" Andrew said. "He said, 'The business is a Ponzi scheme and the firm is completely insolvent. And I'm broke. And then he just started sobbing. And I was shocked ... I don't think if he had told me he was an alien I could've been more surprised."
Andrew said Ruth didn't even know the basics of the financial scheme some will always associate the family name with.
"She looked shocked -- she asked, 'What's a Ponzi scheme?' -- she didn't even understand that.
"I think it was me who answered and said that, 'It means that it's all fake. That Dad's not been doing what he says he's been doing.' And he followed that up and said, 'Yes. I've been lying to all of you -- all of these years. I've been lying to everybody. I've been lying to myself.'"
Article continues below advertisement
Andrew said his late brother Mark "was trembling with rage -- he was absolutely furious.
"Mark was the first one to stand up and said, you know, 'I'm outta here,'" he recalled. "And he stormed outta the room."
As we previously reported, Bernie's oldest son Mark hanged himself last December -- on the second anniversary of his father's arrest -- in his Manhattan loft, as his 2-year-old son slept in the next room.
In the emotional appearance, Ruth said she holds herself accountable for her son's death at 46, because she kept in touch with Bernie against his wishes.
"I just wish, until my dying day, that I had done what he wanted," Ruth said. "I don't know if it would have made a difference or not, but if I could change things, at least if I had tried, I would have felt a little better. I don't know if it would have mattered.
Article continues below advertisement
"It's the most awful thing that can happen to anybody -- suicide of a child."
Watch the video on RadarOnline.com
Bernie Madoff -- convicted of eleven felonies -- is behind bars at the Federal Correctional Complex, Butner in North Carolina, serving a 150-year sentence.
Truth and Consequences: Life Inside the Madoff Family, a tell-all book endorsed by the family, is in stores now.
RELATED STORIES: