Larry King: I Gave Bernie Madoff $700K & Got It All Back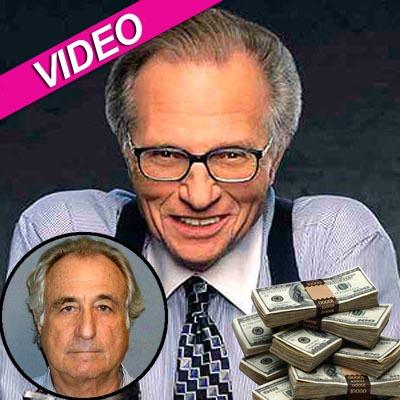 Larry King says he invested about $700,000 with Ponzi kingpin Bernie Madoff, and didn't lose his shirt -- or suspenders -- in the process.
King told Thursday's edition of Extra that he and his wife Shawn received their cash back from the government, as well as Madoff's estate, for tax payments they made "on stocks we never had."
"We got it back -- but a lot of people sure didn't," he said.
Article continues below advertisement
The disgraced Madoff family has popped back in the news lately, with Bernie's ex-wife Ruth recently admitting to 60 Minutes she and her estranged husband attempted suicide, in vain, on Christmas Eve in 2008, two weeks after his arrest.
Watch the video on RadarOnline.com
As we previously reported, Bernie's oldest son, 46-year-old Mark Madoff, hanged himself last December with a dog leash in his New York City loft as his 2-year-old son slept in the next room. His suicide came on the second anniversary of his father's arrest.
Madoff -- convicted of eleven felonies -- is behind bars facing a 150-year sentence.