Exclusive
Kevin Bacon Admits Bernie Madoff Rip-Off Had 'It's Emotional Downsides'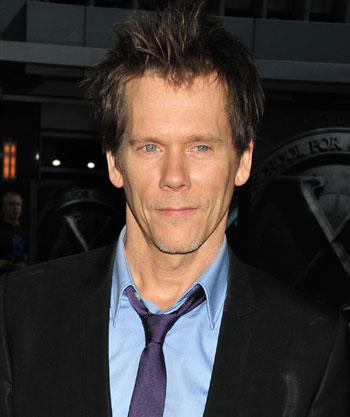 Kevin Bacon and his wife Kyra Sedgwick were among the many victims of the $50 billion Ponzi scheme run by disgraced investor Bernard Madoff.
The actor, who was reportedly taken to the cleaners by the now jailed swindler, is speaking out about the scandal, telling the new issue of Details Magazine "I'm not going to say it didn't have its emotional downsides."
Bacon manages to see the bright side though, going on to say: "But Kyra and I are both young, and we both had the ability to work and roll up our sleeves and start putting the pieces back together. The truth is that we went through it together."
Article continues below advertisement
Thankfully, the actor is enjoying somewhat of a career comeback these days after having struggled for some time to find major movie roles.
Bacon is starring as super-powered villain, Sebastian Shaw, in this summer's blockbuster X-Men: First Class – a role that he says came: 'Totally out of the f**kng blue.'
"I didn't even know they were making the movie," the 52-year-old Footloose star says. "I was in L.A. and they called me up: "Drive over to the Fox lot. You're going to have to sit in the office and read. And you can't take it with you. If you want it, it's yours.
Bacon goes on to talk about playing a villain and the painful transformation he went through for the part.
"My whole body was painted green or blue or black, because I was the green screen. I had giant green contacts—they hurt like hell—and green dentures," he says.
Bacon shares that playing this type of role is not as easy as one would think and admits that he admires other actors who've taken on such character roles.
Article continues below advertisement
"Michael Fassbender and I were doing this very climactic, emotional showdown, and we were completely surrounded by green," he says.
"There were guys standing next to us dressed like it's St. Patrick's Day, and after about two or three days of shooting that scene, I was struck by the fact that actually delivering a good performance in one of these situations is really hard, and it makes me admire those actors who can—Johnny Depp does a lot of things like this. Christian Bale and Heath Ledger. Robert Downey."