Six Degrees Of Kevin Bacon And New 'Footloose' Star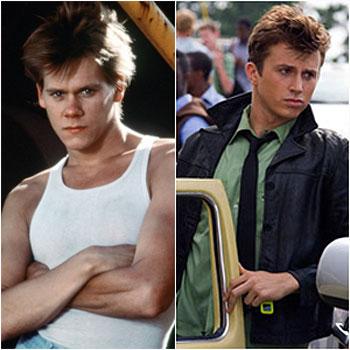 by RadarOnline.com Staff
It's nearly time to get your dancing shoes on again!
The highly anticipated remake of Footloose will hit theaters this fall with a whole new cast of sizzling stars showing off their hot moves.
Kevin Bacon, who first played the iconic role of Rem MacCormack in 1984, is passing down his dance moves to professional dancer Kenny Wormald who will be recreating the role nearly 27 years later.
Article continues below advertisement
Just like everyone else in Hollywood, Wormald – who has starred in music videos for Madonna, Mariah Carey, Christina Aguilera and Prince – is connected to Bacon in more ways than one.
Get ready for a little Six Degrees of Kevin Bacon!
1. Wormald was in You Got Served with actress Meagan Good.
2. Good starred in Unborn with the hunky Idris Elba.
3. Elba co-starred with singer Beyonce Knowles in Obsessed.
4. Beyonce showed off her acting chops in Pink Panther with comedic legend Steve Martin.
5. Martin starred in Planes, Trains and Automobiles with…you guessed it, Kevin Bacon.
6. And finally, Bacon's infamous Footloose role is being reprised by Wormald.
Footloose opens nation-wide on October 14th and co-stars Julianne Hough, Dennis Quaid and Andie MacDowell.
RELATED STORIES:
Russell Brand Vs. Russell Brand: 'Hop' Leaps Over 'Arthur' At The Box Office