Exclusive
Kelsey Grammer Sued In Ponzi Scheme, But He Was Duped Out Of $1 Million!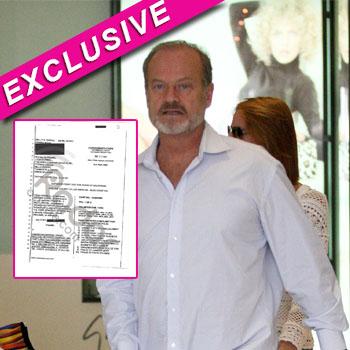 By Jen Heger - RadarOnline.com Assistant Managing Editor
Kelsey Grammer is being sued by television actress Lydia Cornell, who alleges he helped lure her into a Ponzi scheme, but Grammer says he was also victimized and lost $1 million in the "venture," RadarOnline.com is exclusively reporting.
The Frasier star was recently added as a defendant to a $100 million, 27-count lawsuit from Cornell, perhaps best known for playing Ted Knight's ditzy oldest daughter Sarah on Too Close for Comfort, and several other plaintiffs. The suit centers on a website called Staropoly.com, and its parent company TODHD.
Article continues below advertisement
EXCLUSIVE DOCUMENT: Kelsey Grammer Sued - Read The Lawsuit
But Grammer is so furious that he is threatening his own legal action against the plaintiffs and their attorneys, RadarOnline.com has learned.
The allegations by Cornell and her co-plaintiffs include grand theft, fraud and extortion, and the lawsuit depicts Alex Varonos as a driving force behind a scheme that included selling "channels" on Staropoly.com, using Grammer's name to convince others to join. Varonos and pals also reaped the publicity benefits of a Variety charity event for cancer in 2010 but never forked over the $100,000 fee, the suit alleges.
Varonos had a business relationship with Grammer at one time after they were introduced by a mutual friend.
The lawsuit was filed in Los Angeles Superior Court last August and didn't name Grammer as a defendant at that time. He was added to the suit only weeks ago; the reason for the delay is not clear.
What is abundantly clear is that Kelsey is furious about being branded as part of the scheme and vows to initiate his own action, RadarOnline.com has learned exclusively.
Article continues below advertisement
Top Los Angeles attorney Marty Singer released this statement to RadarOnline.com:
"Any claims filed against Kelsey Grammer concerning Starpoly are absurd and without merit. Kelsey has been substantially damaged in this venture, and in fact lost $1 million of his own money. Kelsey received nothing from the venture, monetarily or otherwise.
"Kelsey has not been contacted by any of the attorneys in the lawsuit, not been served and has not been contacted by any governmental agency. If Alex Varonos told people that TODHD was Kelsey's network, then it was done without Kelsey's authorization, and against Kelsey's strenuous objections. The parties and attorneys who sued Kelsey on these fictional claims will be exposed to significant liability for malicious prosecution."
Cornell says that Grammer's alleged involvement in the venture convinced her to join.
The amended complaint of the lawsuit was filed on May 7, 2012 and added Grammer and several of his companies as defendants.
Staropoly used Grammer's name and likeness and Varonos pitched it as the "first branded social network" and "Kelsey's Network." According to the lawsuit, Grammer was prominently featured in advertising and promotional materials and he had a conference call and some personal contact with potential investors.
Article continues below advertisement
Four of the plaintiffs are lawyers and one is a self-described entertainment industry consultant. More than 100 defendants are identified in the lawsuit.
Cornell and the other plaintiffs all "entered into agreements with the Defendants in good faith and in reliance on the celebrity of Grammer, who was widely advertised as a channel holder, 'partner' and promoter of TODHD and Staropoly, and a 'personal friend 's Defendant Fleming. Grammer's name and face was a prominent feature as though Plaintiffs would receive some special affiliation with Grammer," the lawsuit states.
The docs also read, "Defendant Staropoly has falsely advertised itself as a multi-level marketing company; however; as its operation is that of an illegal pyramid scheme operating in order to commit credit card fraud, with no monetary return to its associates. Photographs and promotional materials of Grammer were used as sales tools to 'reel' in more investors. Hundreds, if not thousands, of innocent investors were 'taken in' by these Ponzi schemes, primarily due to Grammer's endorsements. Grammer knew or should have known that people and fans would rely on his celebrity in much the same was a guarantor that what they were about to invest in was legitimate. Essentially, hundreds...relied upon and trusted that Grammer would be careful about his affiliations; the last thing they expected was that he would endorse illegal Ponzi schemes."
Article continues below advertisement
Cornell initially had doubts about investing with the defendants. The lawsuit state she "did not want to have anything to do with multi-level marketing, but after listening to seemingly endless calls from Defendant Varonos stating how incredible Staropoly was, and after hearing a Staropoly 'pitch' phone conference call with Grammer, and... being promised 'huge' profits, Defendant Cornell signed up and promoted Staropoly in notices to millions of fans on Twitter, Facebook, and all over the world wide web."
The suit also contends that one plaintiff, lawyer Richard Lewis, "had a personal contact with Grammer who touted Staropoly as an excellent business opportunity."
But Grammer also was at odds with the site and demanded his name and likeness not be used, one of his reps previously told us.
Interestingly, at a recent hearing, the proceedings had to be postponed according to courtdocuments obtained by RadarOnline.com, because "the first amended complaint filed on 5-7-12 was not located until the afternoon of 6-9-12."