Exclusive
Kelsey Grammer Is Having A Mid-Life Crisis, Claims Source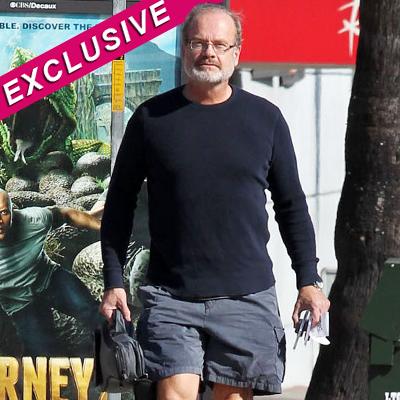 Article continues below advertisement
"I seriously think Kelsey is going through a mid-life crisis," the source tells RadarOnline.com. "He has married a woman who is twenty-five years younger than him, he recently got his first tattoo, of her name, he decides to renew his wedding vows after being married for a little over a year? This behavior is far away from the Kelsey that I have known for years, it's like he is reliving his youth. He used to be such a private person.
"What's next, is he going to pierce his ears and get a mohawk? He will be collecting Social Security when the twins are in elementary school. Yet, Kayte and Kelsey want to have even more children after the twins are born!"
The Frasier star and his wife, who used to be a flight attendant, joked that they wanted to have silly wedding pictures of their "shotgun wedding" to show their kids.
"It's completely bizarre that Kelsey and Kayte would renew their vows after only being married for a year. Kayte is very pregnant and it was Kelsey's idea to go to Las Vegas to renew their vows. With this and the tattoo incident, it's as if he is constantly trying to prove to the world and to Kayte how much he loves her and it's sad to witness," a source previously told RadarOnline.com.
Article continues below advertisement