Kelsey And Kayte Grammer's Las Vegas Wedding Photo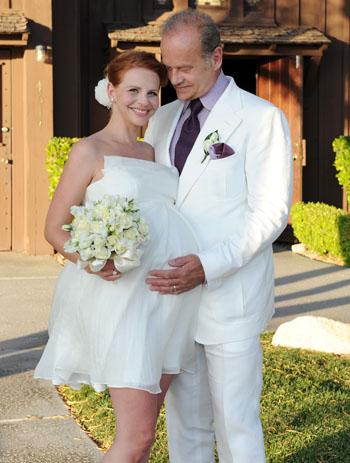 Article continues below advertisement
"Kayte's the most wonderful person in the world," Kelsey said. "I'm just so happy! We're really excited. We've always wanted shotgun wedding pictures so we can show the kids later on! We wanted to celebrate and re-dedicate ourselves to how much we love each other and to our growing family around the bend... I love that she had the courage to marry me twice!"
The 31-year-old mother-to-be donned a custom made Peter Langer baby doll dress for the vow renewal ceremony while Kelsey wore a dapper Tom Ford tuxedo.
As RadarOnline.com previously reported, a source close to the actor found the wedding vows renewal "bizarre."
"Kelsey hasn't been acting like himself for a long time now. This just isn't the Kelsey Grammer that his family and friends know. Kayte has had a very rough pregnancy and she just wants it to be over with. The whole experience has been very isolating for her and she misses her family," the source opined.