Exclusive
Kelsey Grammer And Fourth Wife's Vow Renewal Was 'Bizarre' Says Source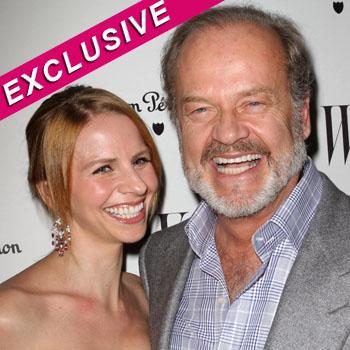 Article continues below advertisement
"It's completely bizarre that Kelsey and Kayte would renew their vows after only being married for a year. Kayte is very pregnant and it was Kelsey's idea to go to Las Vegas to renew their vows," a source close to the couple tells RadarOnline.com exclusively. "With this and the tattoo incident, it's as if he is constantly trying to prove to the world and to Kayte how much he loves her and it's sad to witness.
"Kelsey hasn't been acting like himself for a long time now. This just isn't the Kelsey Grammer that his family and friends know. Kayte has had a very rough pregnancy and she just wants it to be over with. The whole experience has been very isolating for her and she misses her family."
The Frasier star and his British-born wife joked that they wanted to have silly wedding pictures to show their kids.
Article continues below advertisement
As previously reported, the 57-year-old sitcom star got Kayte's name tattooed in Chicago recently. Kelsey's much younger pregnant wife was with him when he got his first tattoo. "This is his first tattoo and it appears that he is trying to be someone he isn't for his new wife. It's sad that Kelsey felt he had to get a tattoo to prove his love for Kayte and then to post it to Twitter!," a source previously told RadarOnline.com.