Exclusive
FBI Investigating Graphic Death Threats Against Dog The Bounty Hunter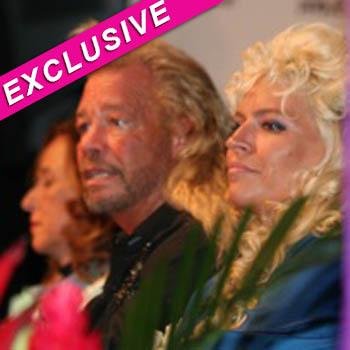 By David Perel - Executive Vice President/Managing Editor Radar
Warning: Explicit Content
Duane "Dog the Bounty Hunter" Chapman and his family have been the target of threatening and terrifying e-mails the past few weeks, leading to an FBI investigation, RadarOnline.com has learned exclusively.
The source of the e-mails sent the disturbing communications over four days, threatening murder, rape, kidnapping and other horrific, unspeakable acts.
Article continues below advertisement
EXCLUSIVE DOCUMENTS: Read The Terrifying Dog The Bounty Hunter Emails
On April 30, Dog received an email that read: "I'm going to murder you. I'm going to come to Hawaii and murder you and your family in cold blood. You are next on my list and are the bane of society. I will deliver you to God."
Then, on May 2, Another email arrived and read: "I'm going to murder you and your family. I'm going to slaughter your family. I'm going to cut the fat t**s off your wife while I watch your children bleed.
"I want to see you cry, like you did everyday in prison. I want you to watch as your family gets massacred right in front of you Then I'm going to f**k you in the a** with your f****t indian beads."
HOTOS: Stars Who Have Been Stalked
A day later, on May 3, The emailer wrote: "Your children looked nice today. As previously stated, I have a rather nasty vendetta against you and your family. I know this goes through contacts; and they may be the bane to your saving. I encourage you to thank them after I have your family tied up and gagging.
Article continues below advertisement
"I can't wait to rape your daughters. Feel them get blasted by my c*m. It will feel so great. The blood of the innocent gets me so hard. Bye Duane."
An FBI spokesperson tells Hawaii News Now, "Earlier this week, the Los Angeles FBI field office referred the case to the Honolulu FBI field office, according to Special Agent Tom Simon. However, the Honolulu FBI can neither confirm nor deny the existence of any FBI investigation unless or until any charges are filed."