Meet Our Baby! First Photo Of Kayte And Kelsey Grammer's Daughter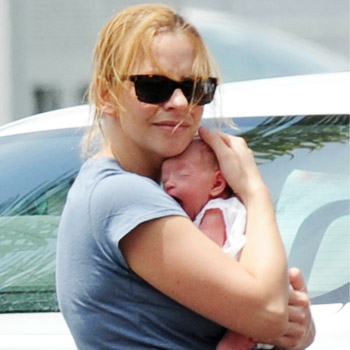 Meet 10-day-old Faith Evangeline Elisa Grammer!
New parents Kayte and Kelsey Grammer revealed their newborn baby at a soccer game in Los Angeles over the weekend – and RadarOnline.com has the photo.
The five-time father (as well as grandfather!) and his wife of just more than a year were casually clad as they arrived to the soccer game, just more than a week after they welcomed their first child together in Los Angeles.
Article continues below advertisement
"Early this morning Kayte gave birth to Faith Evangeline Elisa Grammer," the couple announced in a statement on July 13. "We are thrilled. She was 6 lbs. 2 oz. when she entered the world at 1 a.m. on the 13th of July in the year 2012. Mother and child are in excellent health."
However, the couple, who announced in January that they were expecting twins, simultaneously revealed the sad news that Kayte lost Faith's twin brother earlier on in her pregnancy.