Kelsey Grammer Shows Off Intimate Tat, Implies His Republican Beliefs Led To Emmy Snub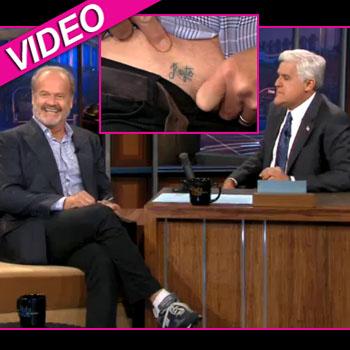 Kelsey Grammer, appearing on The Tonight Show Tuesday, showed off a revealing tattoo bearing his wife's name, and blamed his lack of Emmy nominations this year on his political leanings.
The Boss star said he got his new ink "on a whim" after some gentle prodding from his spouse, former flight attendant Kayte Walsh.
Kelsey said his beloved Kayte asked him, "Would you ever consider getting yourself tattooed with my name?" and he said he would.
Article continues below advertisement
Not one for just talk, Kelsey then unbuckled his pants, and showed off the tattoo, which was in such an intimate area, cameras nearly caught a shot inappropriate even for late night.
"I'm actually quite proud of it: its strategically placed for viewing!" Kelsey, 57, boasted.
Jay Leno then stirred the pot, asking the actor how he received a Golden Globe for his critically-acclaimed performance on Boss, but was shut out of this summer's Emmy nominations for the same performance.
"It's hard to figure...I don't know Jay, it's a question that will remain one for the ages," Kelsey waffled, before making it clear why he thought his name was not on the list of candidates.
"It may have to do with...I think its possible...I'm a declared, out-of-the-closet Republican in Hollywood," he said, and then added sarcastically, "It's nothing personal...I've been overlooked because the work is not up to standard."