AUDIO: Camille Grammer Implies Kelsey Is A Crossdresser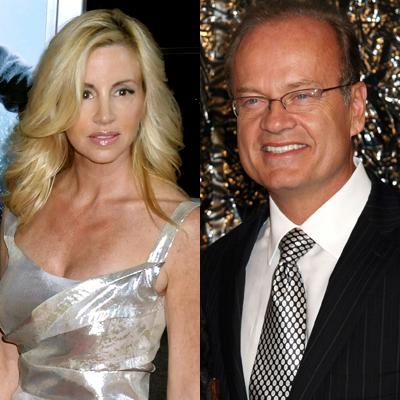 Looks like the gloves -- and perhaps, even the pantyhose -- are off in the nasty Grammer divorce!
Hear the audio on RadarOnline.com
Camille Grammer implied that her soon-to-be ex-husband, actor Kelsey Grammer, likes to cross-dress during an appearance on The Howard Stern Show Wednesday.
Stern asked Camille if Kelsey has gay tendencies, and Camille said she thought he was straight.
"But you're saying you do think he's gay, that when he got into La Cage aux Folles, he was in the right play," Stern said, referring to the Broadway production which features cross-dressing characters.
Article continues below advertisement
"Well that's for another reason..." Camille said, opening up the proverbial can-of-worms.
"He likes to dress up like a woman?" asked Stern's second banana Robin Quivers.
"I'm not saying it," Camille unconvincingly said.
"Poor Camille -- honey why didn't you call me? What did he stretch your panties when he put them on?" Stern asked.
Camille Grammer on Howard Stern Show
Camille continued with the insincere protests, saying, "I don't know what to say ... I'm not discussing this right now -- if you want to talk about anything else but that ... Kelsey's a man, he's very much a man."
VIDEO: Camille Grammer 'Doing Really Well,' Says Beverly Hills Housewives Costar
Fun fact: Camille, then Camille Donatacci, appeared in a bikini in a brief cameo in Stern's 1997 film, Private Parts.
Article continues below advertisement