Exclusive
Kim Kardashian Boasts She Is More Famous Than Jennifer Aniston & Angelina Jolie!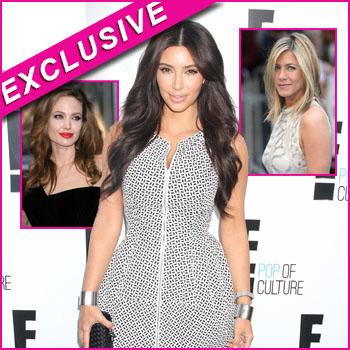 Article continues below advertisement
The Keeping up with The Kardashians star kept her fame soaring after her 2007 sex tape, by exposing every detail of her private life but did a 360 turn in a recent interview on the TODAY show when she played coy after being asked about her romance with Kanye West.
She was criticized by Howard Stern who described her behavior as 'insane'. "This is a girl who got famous revealing everything about her personal life, now... she thinks she's Jennifer Aniston, she's on there, 'I don't want to talk about Kanye, I don't want to speak about it, I don't read the tabloids, everybody back off.' "
But friends say the 31-year-old's new found privacy is all part of her goal to marry Kanye. After her failed marriage to Kris Humphries, who she feels wasn't famous enough for her, she has big plans to settle down with the 34-year-old rapper.
"Kim thinks she made a huge mistake and wasted her time marrying Kris because he is a no name. She is obsessed with the fact she married someone less famous then herself and has plans to fix that by marrying Kanye," her friend revealed. "She feels if Angelina can marry an A-lister then so can she!"
Article continues below advertisement