Exclusive
Kris Humphries To Kim Kardashian: Gimme Back The Engagement Ring!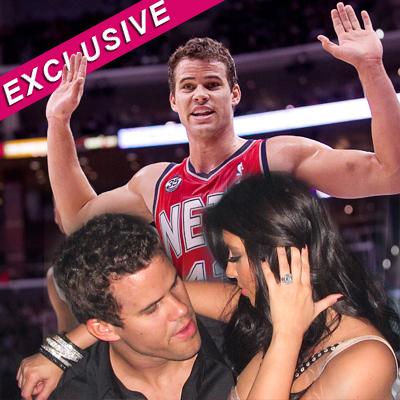 Article continues below advertisement
Kardashian's powerhouse lawyer, Laura Wasser, mentioned a dispute over "jewelry" during a brief hearing last Friday, and our sources say she was referring to the stunning diamond engagement ring. "Kris wants the ring back because the marriage only lasted 72 days and he believes it was based on fraud and deceit. Remember, Kim filed for divorce. Kris paid for that ring, and he just can't fathom why Kim would want to keep it," a source close to the former couple tells RadarOnline.com. "It's not like she is ever going to wear it again. Kris realizes that with Kim it's all about material objects and she truly treasures things over people in her life."
Team Humphries plan on grilling Kardashian about several subjects, including what happened to the $325k white Ferrari the former couple was given as a wedding gift by a wealthy Malaysian businessman.
"Kris wants a divorce trial so that the truth can finally come out. Amongst other matters, he wants to know about the Ferrari that the couple got from a very wealthy Malaysian businessman that attended the wedding," a source previously told RadarOnline.com. "Kris was at Kim's house when the car was delivered -- it was given to both of them, but Kim has kept sole ownership and has used it extensively. She will be asked about it, under oath, on the stand at the trial."
Article continues below advertisement
"Dates for the upcoming deposition are being discussed between the lawyers, and of course, Kris' team is being told that Kim is extremely busy with shooting for the upcoming season of Keeping Up With The Kardashians," the source tells radarOnline.com. "Kris suggested that Kim bring her camera crew along to the deposition, then, problem solved!"
RELATED STORIES: