Exclusive
Kris Humphries Wants To Know What Kim Kardashian Did With $325k Wedding Gift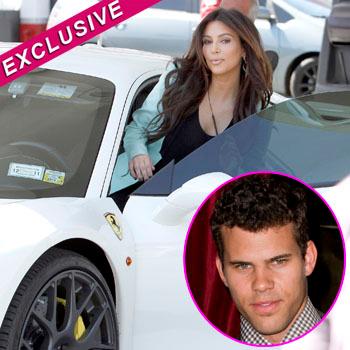 RadarOnline.com Assistant Managing Editor
Kris Humphries wants to know what happened to a $325,000 wedding gift that was given jointly to him and Kim Kardashian, RadarOnline.com is exclusively reporting.
The former couple received the extravagant gift from a very wealthy Malaysian businessman who attended their wedding last summer and Team Humphries wants to know why the reality star didn't factor it in when she made a donation to charity for the amount of their wedding gifts, RadarOnline.com is exclusively reporting.
Article continues below advertisement
As RadarOnline.com previously reported, Kardashian recently announced that she was going to be donating some of their wedding gifts to charity, along with making a contribution to a charity of her choice for double the value of the gifts, instead of sending the presents back to those who purchased them.
Humphries' lawyers plan on asking Kardashian about the gift at their divorce trial -- and yes, sources tell RadarOnline.com that there will absolutely be a trial, despite Kim trying desperately to avoid it.
"Kris wants a divorce trial so that the truth can finally come out — amongst other matters, he wants to know about a $325k wedding gift that the couple got from a very wealthy Malaysian businessman that attended the wedding," a source close to the former couple tells RadarOnline.com. "Kris was at Kim's house when the very gift was delivered -- it was given to both of them but Kim has kept sole ownership of the gift and has used it extensively. She will be asked about it, under oath, on the stand at the trial. The total of their wedding gifts, not including the $325k luxury item, was around $400k, and not the $100k value that Kim has publicly stated. When you include the $325k gift, they actually got over $700k in total in wedding presents, so Kim should have donated a lot more to charity that the $200k she claims she has."
Article continues below advertisement
"Kris' attorneys also plan on calling the Malaysian gift giver as a witness because Kim has denied that they received the $325k gift and said instead that he gave them a vase valued at around $200. The man is a billionaire, there is no way he would have given them a vase and Kris has proof that the businessman gave them the over the top gift. For Kris this isn't about the money, it never has been, it's about the truth finally coming out," the insider says.