Exclusive
Jackson Family Drama Shows History Of 'Distrust, Dysfunction & Secret-Keeping' Says Psychologist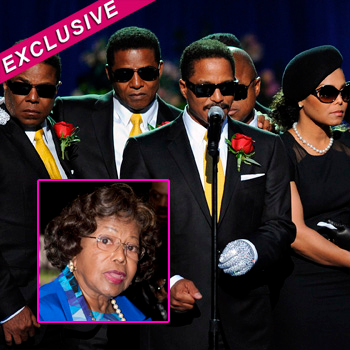 Article continues below advertisement
"I watched the video but don't think Katherine's presentation looks clinically significant. The statement was made in a very contrived manner, likely directed by a publicist," Dr. Meyers went on to explain.
Meanwhile, many are now asking if the well-being and happiness of Michael's beloved children is at the fore-front of the family's concerns, despite Randy Jackson's on-air claims that the recent drama "is not about the money."
Article continues below advertisement
"My concern for Michael's children grew more serious after witnessing the videotaped altercation with Paris and Janet, in which Paris probably felt threatened and anxious as a result of her relatives' aggressive behavior (attempting to take Paris' phone and videotape the interaction.) Paris and her siblings are young children who have lost a father and don't have an involved mother," said Dr. Meyers.
"The relatives need to understand that caring for the children needs to be conducted in a more sensitive manner. The tapestry of recent bizarre events suggests that someone in Katherine's circle knows something serious is going on, a secret the public has no idea of," he told RadarOnline.com.
"Most telling of what is going on behind closed doors is Paris' recent behavior, which indicates there is a major divide within the extended family about who should care for the kids," the psychologist explained, and the 14-year-old's reaction to her grandmother leaving for a 'vacation' suggests that "this family is keeping a serious and destructive secret."
Article continues below advertisement