Exclusive
Shocking New Claim: Katherine Jackson Given Alcohol, Seemed Drunk in Arizona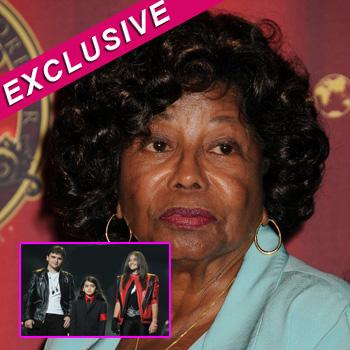 By Jen Heger - Radar Assistant Managing Editor
Katherine Jackson seemed drunk when she finally spoke to Michael Jackson's children Tuesday night for the first time in more than a week, and it alarmed the kids because the devout Jehovah's Witness doesn't normally drink alcohol, RadarOnline.com is exclusively reporting.
As previously reported, the Jackson family matriarch is on her way back to Los Angeles from the swanky Miraval spa in Arizona, where she had been holed up for the last week with no telephone or computer access. Katherine likely won't go to the rental house that she had been living in with the children, but will instead head to the Jackson family compound in Encino.
Article continues below advertisement
"It's time to let cooler heads prevail right now and it's very likely that Katherine will be staying at the Hayvenhurst mansion for the short term," a source close to the situation tells RadarOnline.com. "When Paris spoke to Katherine last night she sounded like she was drunk. Paris repeatedly asked her, are you ok, and Mrs. Jackson was slurring her words. I was told that it appears that Katherine was given alcohol during the time she was staying at Miraval, and remember, it was stated in court today that she had recently been diagnosed with high blood pressure. Katherine is extremely upset and distraught to learn that she lost custody of the children, but is hopeful she will be re-instated as their legal guardian very shortly."
As RadarOnline.com previously reported, Katherine's attorney, Perry Sanders told Radar directly after the hearing, "Randy (Jackson) texted me during the court proceedings and said that Katherine was on her way back to Los Angeles. I will be going back to court in the very near future to have her guardianship of Michael Jackson's children re-instated.
Meanwhile, Katherine could face legal obstacles in her bid to retain guardianship of the kids. "If the kids tell TJ they want him to be their primary guardian, he is ready to honor that wish. It's too soon to say what the children want....again, we need to let cooler heads prevail, and all agree on what is best for the children first and foremost. What is evident is that if Katherine does get custody back there will be further things implemented so that something like this doesn't happen again. There is concern for Mrs. Jackson's health at this point, because she is extremely upset with Randy, Janet and Jermaine for getting her into this situation. We have to remember Katherine's age, and this is taking a tremendous toll on her," the source revealed.