Exclusive
Attorney For Michael Jackson's Children: The Kids Aren't Safe Around Jackson Family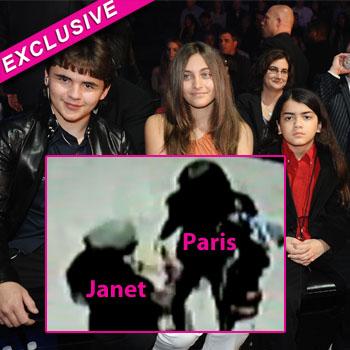 Article continues below advertisement
As Radar was first to report -- and as was captured on surveillance video broadcast on Good Morning America Tuesday -- Janet physically tried to take Paris' cell phone from her, and the children watched in horror as Jermaine and Randy got into a physical altercation with Trent Jackson, who is Joe Jackson's nephew.
"It was absolute utter chaos at the house. Lodise quickly determined that the children aren't safe around Michael Jackson's siblings and will be asking the judge to strip Katherine Jackson of guardianship of the children. Under no circumstances is it acceptable for the children to be subjected to any level of violence. The kids saw Jermaine and Randy get into a fight with Joe Jackson's nephew, Trent, who lives with the children and Katherine at the house. Trent was simply trying to prevent
the trio from taking the kids. Janet kept asking where the kids passports were! It's truly sad that it has come to this, but this was brought on my Michael's siblings," a source close to the situation tells us.
As previously reported Michael Jackson's children met with Lodise on Monday evening after Jermaine, Randy and Janet attempted to take the kids to Arizona.
"Margaret (Lodise) went to the house on Monday evening as a meeting with the children was requested," a source close to the situation tells Radar. "This came after Jermaine, Randy and Janet tried to take them out of state. Katherine has now been out of the picture for over a week, and legal options are now being pursued in order to ensure that the children are safe.
Article continues below advertisement
The executors of Michael Jackson's estate released a statement, which confirms Radar's exclusive report that Janet and Paris got into a dispute over the teenager's cell phone.
The statement reads: "Yesterday afternoon certain Jackson family members ambushed Katherine Jackson's home after their vehicle tore through security gates on the tails of the SUV containing Michael Jackson's children. After exiting their vehicles, Jackson family members ran up to Michael's children as they yelled and began to aggressively grab at the cell phones in their hands. Out of concern for the wellbeing sic of Prince, Paris, and Blanket Jackson, the children were forced to temporarily leave their home and taken to a safe location.  An altercation ensued shortly thereafter and law enforcement arrived at the scene. Following the incident, it was learned that one of the family members who was part of the ambush admitted that a plan has been in place for the last three years to remove Katherine Jackson from her home and her beloved grandchildren. Prince, Paris, and Blanket Jackson have not heard from their grandmother since she left their home nine days ago to attend a series of her sons' concerts on their Unity Tour. She never made the shows. Despite efforts to interview Katherine Jackson at her current location in Arizona yesterday, Los Angeles County Sheriffs confirmed that they were denied access to Mrs. Jackson by security for one of her children."
Katherine Jackson has been in Arizona for over a week and hasn't talked to her grandchildren during that entire time. Last night, Paris Tweeted, "8 days and counting . something is really off , this isn't like her at all .. i wanna talk directly to my grandmother!!<|3"
Tuesday morning, Paris fired off another Tweet: On Tuesday, Paris posted on "Twitter: "9 days and counting... so help me god i will make whoever did this pay".
Article continues below advertisement
Jackson's children "will remain together, that is absolutely certain. The estate just wants to ensure that the children are safe, and away from all of this Jackson family insanity," the source said.
radar_embed service=5min.com src=" http://pshared.5min.com/Scripts/PlayerSeed.js?sid=1126&width=486&height=412&playList=517708406&sequential=1&shuffle=0"
RELATED STORIES:
Janet Jackson Behind Mother Katherine's Mysterious Arizona Trip