Exclusive
Janet Jackson Behind Mother Katherine's Mysterious Arizona Trip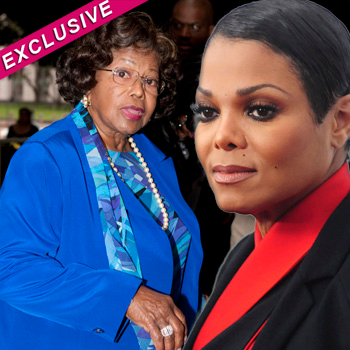 Article continues below advertisement
"It was an extreme measure, but Janet felt that by being away from Paris and Prince Michael, Katherine would be able to relax a lot easier. However, it's important to reiterate that she's not at a hospital. If she was truly sick she would be in hospital care.
"Katherine is holed up at a place where she can just get some rest."
As RadarOnline.com previously reported, Los Angeles Sheriff Department officials said late Sunday that Katherine, 82, was safe, after her nephew Trent Jackson reported her missing a few days ago.
According to a report from TODAY on Monday, Katherine's excursion to Arizona was planned well in advance. While her son Jermaine put out a statement that read, "Let me put to bed today's nonsense: as I made clear some days ago, Mother is safe and well in Arizona with her daughter and our sister, Rebbie, resting up on doctor's advice, so it is beyond me how she can be reported 'missing.'
"This incredulous claim was made for reasons best known to the adult/s who filed it but it seems no accident that it comes after we, the sons and daughters, put in place care-taking for our own mother, taking her to Arizona in line with doctor's advice following a check-up.
Article continues below advertisement
"Furthermore, it dismays me that such an alarmist 'missing person' report has caused unnecessary anxiety among Michael's children who will understandably react to what they misunderstand, hear or are told.
"No-one is being 'blocked' from speaking with Mother. She is merely an 82-year-old woman following doctor's orders to rest-up and de-stress, away from phones and computers. Everyone has been well aware of this within the family, but I would like to reiterate my reassurance to the outside world that Mother is fine. In the meantime, thank you for all your thoughts and concerns."
Katherine, 82, has been raising her son Michael's three kids (Prince, Paris and Blanket) following the singer's June 25, 2009 death.
Granddaughter Paris had tweeted over the weekend: "yes, my grandmother is missing. i haven't spoken with her in a week i want her home now."
Meanwhile, CNN reported Monday that a lawyer for Katherine Jackson is asking the FBI for help, saying Los Angeles County Sheriff's deputies were not allowed to see Michael Jackson's mother in Arizona as part of a missing person investigation.
Article continues below advertisement
Michael Jackson's Ex-Wife Debbie Rowe 'Extremely Concerned' About His Mom Katherine