Exclusive
Michael Jackson's Kids: Three Years After His Shocking Death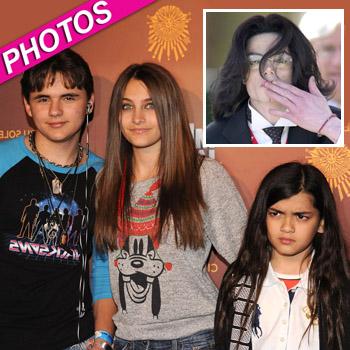 Michael Jackson died exactly three years ago, and RadarOnline.com is taking a look in pictures at how the lives of his three children have changed since that fateful day on June 25, 2009.
Formerly shrouded in mystery, Prince, Paris and Blanket had no friends, and in public their faces were covered in masks.
Once home-schooled and hidden away from the limelight Prince, 15, Paris, 14, and Blanket, ten, are now living a more normal life under the care of their grandmother Katherine, 82.
Article continues below advertisement
Earlier this month, Paris opened up to Oprah Winfrey in a two-part TV interview. She lives the life of an average teen -- going to school in Santa Monica, California with her older brother. She has a Twitter account, plays soccer, went to a Chris Brown concert and stars in the movie Lundon's Bridge And The Three Keys.
Prince also wants to act and become a director. Although he won't moonwalk into his dad's dancing footsteps he is keeping the Thriller star's legacy alive by promoting the J5 Collection, a clothing range based on the Jackson 5 style.
Despite being home-schooled in Calabasas where he lives with his grandmother, the King of Pop's youngest child, Blanket, is also seen in public. He practices martial arts with his siblings and appeared alongside Paris and Prince at the Jackson tribute concert, Michael Forever, in Wales last October.
Three years on, though, their father is never far away from the minds of the Jackson children.
Last week, Paris tweeted a photo of Jackson kissing her mother Debbie Rowe.