Paris Jackson Tells Oprah: 'People Have Tried To Bully Me'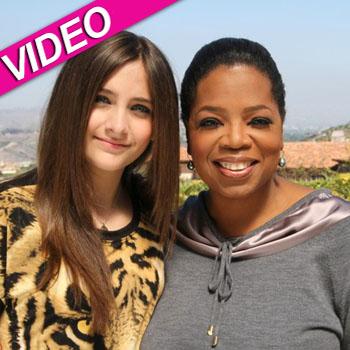 Paris Jackson, on Sunday's edition of Oprah's Next Chapter, admitted she's been the target of schoolyard and online bullies, but doesn't let the ruthless ribbing get to her.
"People have tried, but it doesn't always work … at school and some people try to cyberbully me," said the 14-year-old daughter of the late Michael Jackson. "They try to get to me with words, but that doesn't really work."
Article continues below advertisement
Paris said the bullying "may be" brought about by jealousy, but she "doesn't know."
Paris said she was unaware why some chose to be mean to her. She said she's extra guarded in those trying to make friends with her, at times, as a result.
"If I feel someone is being fake to me," she said, "I will just push away."
Asked why her late father famously shrouded she and her brothers Prince and Blanket in masks, Paris told Oprah, "I was really confused: I didn't get why I was wearing a mask, but I understand it now, why my dad would want our faces to be covered.
Watch the video on RadarOnline.com
"When we went out without him, we wouldn't be recognized," she explained. "He told us that when he was younger, he didn't really have a childhood. He would always be stuck in the studio singing while the kids were out playing.
"He wanted us to have that … we had a normal childhood."
Paris told Oprah that life without her dad "never gets easier."
Oprah's Next Chapter airs Sundays at 9/8c on OWN.