Janet Jackson Says Paris Jackson Should Not Start Acting!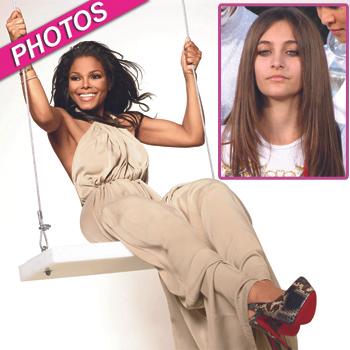 RadarOnline.com Entertainment Editor
Janet Jackson grew up in the spotlight as a member of the Jackson family, but it's a childhood she doesn't wish on anyone, especially her niece Paris Jackson.
The daughter of the late Michael Jackson, who's now 14, recently landed her first movie role in Lundon's Bridge and the Three Keys and her famous aunt isn't totally on board.
"We've spoken about the fact that you're only a child once," the pop star told Prevention magazine in a new interview. "I think there's a time for everything, and now is not the time to act in films. I told her I thought she should enjoy being a kid, possibly go to college or not, but wait till she turns 18. She's a very tough, smart girl. But it's a cutthroat industry. I wouldn't want my child to do it." (As a child, during the late 70s and early 80s, Janet herself appeared on several TV shows, including Good Times, Different Strokes and Fame.)
Article continues below advertisement
That wasn't the only thing Janet was chatty about. The Nutrisystem spokeswoman was very candid about her weight issues. "I think people really connect with the idea of someone who's gained and lost weight in a very public way, and also someone who's an emotional eater.
"Health was always a concern. When I gained weight in 2005, my nutritionist was very worried. I was close to having diabetes. Even when I lost it and then gained quite a bit back, there was always the thought of heart disease."
While Janet is considered to be one of the most beautiful women in Hollywood, she isn't exempt from having low self-esteem.
"Knowing I have these problems with body image, I ask my friends and family to tell me when I've lost too much. Because I will continue to pick on myself like all other woman do, and say, 'You need to lose more here, more there.'
The A-lister loves her trimmed down look, but isn't fond of the process of getting slim.
Article continues below advertisement
"I don't like to workout, and I get bored easily. Tony Martinez her trainer is great. When I'm getting ready for a tour, I'll work out with the dancers. He'll put us in teams and we'll do all sorts of drills and races."
The five-time Grammy Award winning artist admits she has triggers which cause her to overeat such as boredom, sadness, frustration, stress and work, but in addition she just loves sweets which contribute to her weight problems.
Michael Jackson's Parents And Children Join Fans To Celebrate His 53rd Birthday
"Chocolate, cake, caramel apples-there aren't many things I don't love."
Jackson was talkative about most matters and admits her songs "are normally about what's going on in my life at the moment. I don't need to keep a diary," but one subject was off limits--her relationship with Qatar businessman Wissam Al Mana.
When asked if he was her soul mate she laughed and said, "Maybe. Maybe. We'll see."