Real Or Rhinoplasty: Which Celebs Have Gotten Nose Jobs, Which Are Au Natural?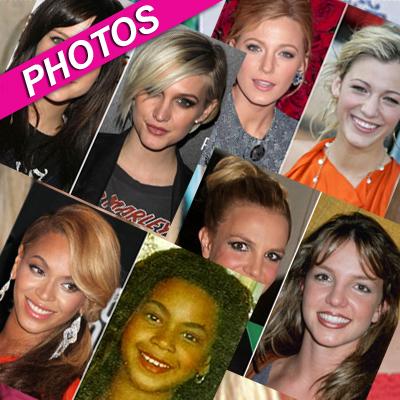 For years these stars have been battling rhinoplasty rumors, and now the truth is revealed!
From the sexiest singers to biggest big screen bombshells, these 12 Hollywood starlets have been speculated to have undergone plastic surgery, but not all of them have, according to a top plastic surgeon.
RadarOnline.com spoke exclusively to Dr. Anthony Youn, who has not treated any of the stars but offered up his expert opinion on whether or not each of these ladies did indeed get a nose job.
Article continues below advertisement
Believe the Gossip when it comes to Blake Lively's nose! "Photos don't lie," explains Dr. Youn, after seeing the before and after photos of the Gossip Girl star. "Her nose appears significantly thinner than it used to. I suspect that she's had a rhinoplasty to thin her nose, making it look sleek and more Hollywood."
But if you think Angelina Jolie has gone under the knife, you may be wrong. "Plastic surgery rumors about Angelina Jolie abound. Does she get her lips plumped? Breast implants? Overall I think she looks natural," opines Dr. Youn of the actress after being shown photos of when she was 15 years old and the present day. "Her prominent features, including her attractive nose, appear to be completely natural. While a large percentage of Hollywood has had their nose nipped, I doubt Angelina is one of them."
Dr. Youn has no doubts though about Ashlee Simpson's changing face from 2004 to 2012. He explains, "Ashlee's nose job is, simply put, the best obvious nose job in Hollywood. It took her from being the 'ugly duckling' younger sister of Jessica to a true Hollywood beauty. A good rhinoplasty makes the entire face look prettier. This is exactly what hers did. Kudos to her plastic surgeon!"
What about the most Bootylicious singer in town? "Did Beyoncé have a rhinoplasty? I think so! Her nose definitely looks thinner and more projected now," he reveals. "It's possible that she just grew into her nose, but it's probably more likely a plastic surgeon reshaped it a bit. Surgery or not, all the single ladies would love to have Beyoncé's nose!"
To see all the stars, their questionable nose transformations and to read all of Dr. Youn's comments, click here.