Janet Jackson Reschedules Aussie Tour Dates To Be With Family At Trial Of Dr. Conrad Murray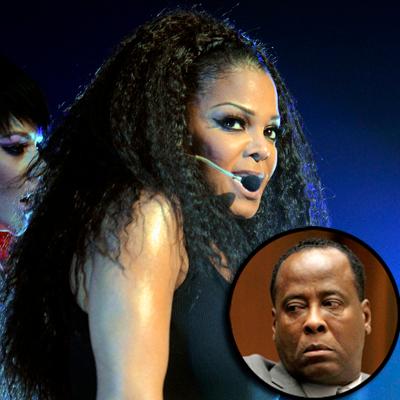 As the trial of Dr. Conrad Murray continues in Los Angeles, Janet Jackson has rescheduled three Australian dates on her Number Ones tour to be at her family's side.
While Jackson was supposed to take the stage in Melbourne on Wednesday, Thursday and Saturday of this week, she'll make up for the missed shows with an extra date November 3 at Melbourne's Rod Laver Arena.
"When I planned these shows, the schedule in California was completely different," the 45-year-old Miss You Much singer said in a statement Sunday. "After talking with my family last night, I decided we must be together right now.
Article continues below advertisement
"This saddens me in so many ways."
The tour's promoter Paul Dainty said it's important the singer be with her loved ones at this time.
"While Janet and our company apologize for any inconvenience for the reschedule of the Melbourne shows, we thank Janet for the great and successful concerts in Perth and Adelaide and eagerly await her return," Dainty said. "Our thoughts and prayers are with Janet and the entire Jackson family."
Jackson has been outspoken in her opinion on Murray's accountability in the June 25, 2009 death of her brother Michael at 50: She said in a 2009 ABC News interview she believes Murray is responsible for her brother's death and should no longer be permitted to practice medicine.
"He was the one who was administering," she said. "I think he should be responsible."
Murray is standing trial in Jackson's death from acute intoxication of a powerful anesthetic complicated by other sedatives. If convicted, he faces up to four years in prison, as well as losing his medical license.