Police: Katherine Jackson Not Missing, Safe In Arizona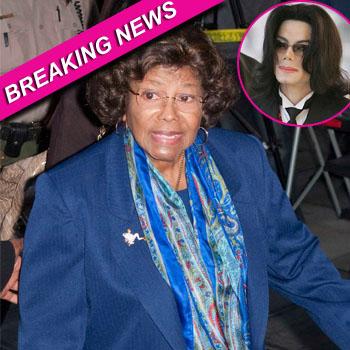 Katherine Jackson is alive and well in with her daughter Rebbie in Arizona, Los Angeles Police Department officials said late Sunday, after her nephew Trent reported the Jackson family matriarch missing.
According to a report from the TODAY show on Monday, Katherine's excursion to Arizona was planned in advance.
Katherine's son Jemaine released a statement decrying the public hysteria that sprouted out of earlier reports, adding his mother was ordered to "de-stress" on the trip and not answer the phone or check the computer. He added that no one's access has been blocked to her.
Article continues below advertisement
PHOTO: Invitation To The Premiere Of This Is It
Here is his full statement:
Let me put to bed today's nonsense: as I made clear some days ago, Mother is safe and well in Arizona with her daughter and our sister, Rebbie, resting up on doctor's advice, so it is beyond me how she can be reported "missing"
This incredulous claim was made for reasons best known to the adult/s who filed it but it seems no accident that it comes after we, the sons and daughters, put in place care-taking for our own mother, taking her to Arizona in line with doctor's advice following a check-up.
Furthermore, it dismays me that such an alarmist "missing person" report has caused unnecessary anxiety among Michael's children who will understandably react to what they misunderstand, hear or are told.
No-one is being "blocked" from speaking with Mother. She is merely an 82-year-old woman following doctor's orders to rest-up and de-stress, away from phones and computers. Everyone has been well aware of this within the family, but I would like to reiterate my reassurance to the outside world that Mother is fine. In the meantime, thank you for all your thoughts and concerns.
Article continues below advertisement
Katharine, 82, has been raising Michael's three kids (Prince, Paris and Blanket) following the singer's June 25, 2009 death. Granddaughter Paris had tweeted earlier: "yes, my grandmother is missing. i haven't spoken with her in a week i want her home now."
As we previously reported, Michael Jackson's ex-wife Debbie Rowe (the mother of his children Prince and Paris) was extremely concerned for Katherine Jackson and had been monitoring the situation, a source told us.
"She has tremendous respect and love for Katherine and is also concerned for the children and is angry that Paris has been unable to talk to Katherine for the past week," the insider said.
Last week Katherine was blindsided after a letter from several of her children demanded their resignations of the executors of Michael's estate, John Branca and John McClain (after three previous failed attempts).
Article continues below advertisement
The letter, allegedly from Janet, Rebbie, Tito, Randy, and Jermaine, demanded the executors resign immediately because they believe the late singer's will was a fake. The letter also alleged that the executors' manipulations left Katherine in bad health, having recently suffered a mini-stroke (Katherine has denied such).
The executors have strongly denied the charges in the letter and have substantially increased the value of the estate. Also as Radar first reported, the statute of limitations has run out on challenging the will.