Exclusive
Los Angeles County Sheriff's Department En Route To Arizona To Do Welfare Check On Katherine Jackson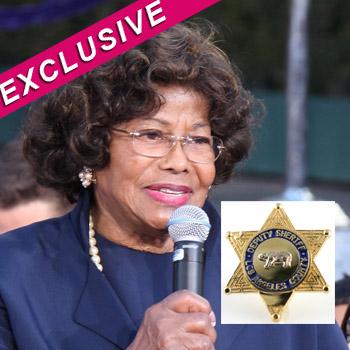 By Jen Heger - Radar Assistant Managing Editor
UPDATE: The Los Angeles County Sheriff's Department detectives were TURNED AWAY at the house where Katherine Jackson is staying because they didn't have jurisdiction because the Pima County Sheriff's Department determined that Katherine was safe. The detectives were told Katherine was safe,  and are now on their way back to Los Angeles without having made any contact with Katherine.
Article continues below advertisement
***
Investigators from the Los Angeles County Sheriff's Department Homicide & Missing Persons unit are en route to Arizona to do a welfare check on Katherine Jackson, after she was reported missing by her nephew, Trent, on Saturday night, RadarOnline.com is exclusively reporting.
As we previously reported, several officers from the Pima County Sheriff's Department visited Katherine Jackson in Arizona on Sunday night. Katherine had been staying with daughter, Rebbie, and told the cops she was fine.
However, "the cops from Pima County didn't follow proper procedure and questioned Katherine in front of her daughter, Rebbie. Katherine should have been taken into a separate room and asked if she was OK, or being held against her will. The decision was made that two detectives from the Los Angeles County Sheriff's Department would personally go to Arizona to ensure that Katherine was safe, and that everything is OK. It's being done out of an abundance of caution," a source close to the situation tells us.
Article continues below advertisement
This comes after Katherine was blindsided after a letter from several of her children demanded their resignations of the executors of Michael's estate, John Branca and John McClain (after three previous failed attempts). The letter, allegedly from Janet, Rebbie, Tito, Randy, and Jermaine, demanded the executors resign immediately because they believe the late singer's will was a fake. The letter also alleged that the executors' manipulations left Katherine in bad health, having recently suffered a mini-stroke (Katherine has denied such).
The executors have strongly denied the charges in the letter and have substantially increased the value of the estate. Also as Radar first reported, the statute of limitations has run out on challenging the will.
The matriarch of the Jackson family "still hasn't called Michael's children, who she is legally responsible for, nor has she spoken to her attorney, Perry Sanders," the source says.
Steve Whitmore, a spokesman for LASD said, no comment.