Exclusive
Michael Jackson Siblings Barred From Mom's House After Attempting To Remove His Kids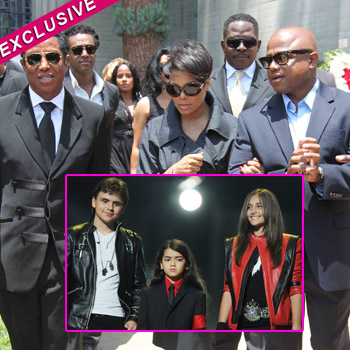 Article continues below advertisement
The situation adds to the ongoing drama with the Jackson family, as Katherine has been in Arizona for more than a week and hasn't spoken to her grandchildren, of whom she is the legal guardian. "It was just total chaos when Jermaine, Randy and Janet descended on the house.
"Randy was telling Prince Michael he had to leave with them and that he had a private jet chartered to take them all to Arizona to see Katherine. Prince firmly held his ground and told Randy he wasn't going anywhere with them. The security detail prevented the three of them from taking the kids out of state. The cops had to be called and Janet kept saying they had a legal right to be at the house when in fact they don't. The rental house is in the name of Michael Jackson's estate, so they were told to leave immediately. For the time being, they won't be allowed to come back to the rental house and guards at the security gate have been told under no circumstances are they to allow them in. Paris was absolutely hysterical and kept telling her uncles to just bring her grandmother home," a source close to the situation tells RadarOnline.com.
"The plan to take the kids out of the house was going to be a publicity stunt. The kids were going to be paraded into the house in Arizona where Katherine is staying and those photos would be published on a website favored by Randy Jackson."
As previously reported Janet was behind Katherine's removal from her home to Arizona, after becoming adamant that her mom needed bed rest and to be checked out by an independent doctor. And a source has revealed that Katherine is doing just fine.
Article continues below advertisement
"Katherine is very well," a family member told RadarOnline.com. "Janet was behind the whole thing – she felt that Katherine needed medical help and was desperate for her to get some bed rest."
"Michael's children are being cared for by their nanny and legal options are being explored about ensuring their safety. The children are very, very smart and they are surrounded by excellent bodyguards that won't allow anything unsavory to happen to them. The kids just want their grandmother back, and want the family drama to end. Now that Paris and Prince are old enough, they understand why Michael didn't have much of a relationship with anyone in the family except for Katherine," the source says.
Michael Jackson's Ex-Wife Debbie Rowe 'Extremely Concerned' About His Mom Katherine