Exclusive
Katherine Jackson 'Blindsided' By Her Children's Letter To Michael Jackson's Executors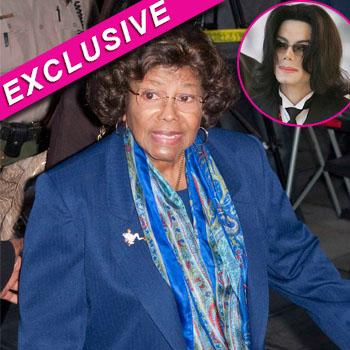 Katherine Jackson was blindsided by news a letter had been written by several of her children to the executors of Michael Jackson's estate, demanding their resignation, RadarOnline.com is exclusively reporting.
As we previously reported, several media outlets obtained a letter allegedly from Janet, Rebie, Tito, Randy, and Jermaine Jackson demanding that the Jackson Estate executors John Branca and John McClain resign immediately because they (the Jackson siblings) believe that the late singer's will was a fake. This comes after three failed legal challenges in the matter already. The letter also alleged that Katherine Jackson was in bad health and had recently suffered a mini-stroke. Katherine's lawyer told CNN she is in good health and did not suffer a mini-stroke.
Article continues below advertisement
Katherine "had absolutely NO idea that her children had written to the executors of Michael's estate. Katherine was extremely upset because this isn't something that she would ever authorize or support, period. Katherine has no issues with the executors, and she is satisfied with the work that John Branca and John McClain are doing. Katherine is extremely upset with her children for writing the letter, and is extremely disappointed that the letter was made public," a source close to the matriarch of the Jackson family tells us.
On Wednesday, Michael Jackson's daughter, Paris, put her aunts and uncles on notice and said on Twitter that she will, "defend my beloved family member with all I have, even if it means from other family members. I am going to clarify right now that what has been said about my grandmother is a rumor and nothing has happened, she is completely fine. I will defend my beloved family member with all I have, even if it means from other family members."
Article continues below advertisement
According to our sources, the letter was written because "the wrongful death lawsuit that Katherine Jackson was pressured into filing against AEG for the wrongful death of Michael is turning into a disaster. Katherine has been deposed, and it was a grueling process, and it's very taxing on her. The Jackson siblings wrote this letter, even though there have been three failed challenges of the will, and the statute of limitations to contest the will has expired to try and get money from Michael's estate. Make no mistake, this is all about money. There is a very good reason why Michael intentionally left his siblings and his father out of the will. Michael's will was very clear, and the beneficiaries are his three children and Katherine. Period. End of story. The Jackson siblings have no legal recourse as far as the will is considered and the person responsible for Michael's death is behind bars, Dr. Conrad Murray," the insider revealed.
At the time of Michael Jackson's death he was over $500 million dollars in debt. Recent court documents filed by the executors state that the estate has a gross earnings of $475 million dollars, and the outstanding debt will soon be whittled down to nothing in the very near future. "Michael Jackson's legacy and the financial legacy has been single-handedly resurrected by John Branca and John McClain, and the lucrative deals they have made for the estate. Many people said that Michael was naive when it came to business, yes, he spent money he didn't have, but the smartest thing he ever did, besides buying the Beatle's record catalogue, was to appoint John Branca and John McClain as the executors. Michael trusted those two men and respected them as human beings. He knew they would always do the right thing, and they have. They have carried out his wishes to the letter,' the source said.
Article continues below advertisement
PHOTO: Invitation To The Premiere Of This Is It
Katherine has requested "increases in her monthly allowance for expenses, and the Estate has never opposed that, and it has always been granted. The only thing Katherine's children are doing now is causing her more stress than she needs. Katherine has an excellent lawyer who looks out for her best interests," the insider stated.
Whenever the executors are about to sign a new contract on behalf of the estate, "the lawyers submit it to the judge for his review. Almost all of the deals are approved by the judge, even though the Estate often isn't required to get approval. There has been absolute transparency in all of the business deals that the executors have made, as well as the debts that have been paid off," the source said.