Katherine Jackson Finally Talks To Her Grandkids, She's On Her Way Home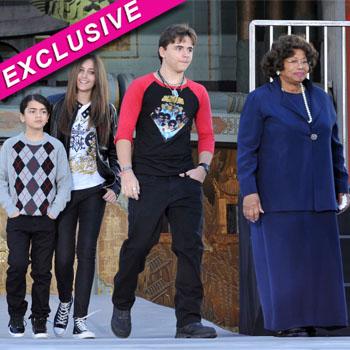 By Jen Heger - Radar Assistant Managing Editor
Katherine Jackson was finally able to talk to her grandchildren, Paris, Prince Michael, and Blanket after more than a week Tuesday night after her attorney, Perry Sanders, flew to Tucscon, Arizona where the Jackson family matriarch has been holed up all week with no access to a telephone, computer, or television, RadarOnline.com is exclusively reporting.
Article continues below advertisement
Sanders flew to Tuscon on Tuesday, a source connected to the case tells us. "Perry went to the spa where Katherine was staying and was still unable to meet with Katherine in person. However, he did talk to Jermaine and Janet Jackson who were also there. The attorney explained the lack of communication has been very confusing and cause for concern. Katherine had no phone in her room, and there is no cell service at the resort. Perry insisted that Katherine be able to speak to the grandkids, and it finally happened last night. Perry urged Janet and Jermaine to have her mother come home immediately because of the pending custody hearing which WILL happen this morning in a Los Angeles courtroom."
The conversation "was extremely emotional, and Paris was just so relieved to hear from her grandmother. She was very emotional on the phone, and Katherine assured her that everything was going to be OK. Katherine wanted to come home immediately last night, but there were no flights available. She is extremely upset at her children for doing this, and was kept in the dark the entire time," the insider adds.