Exclusive
Security Beefed Up For Michael Jackson's Kids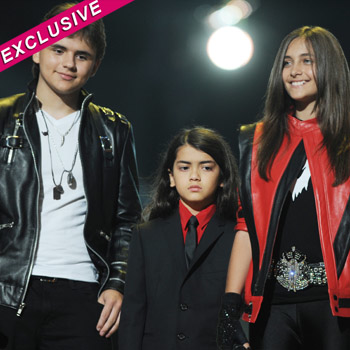 Article continues below advertisement
Trent has also made the move to make sure the kids will be flanked by more bodyguards whenever they leave the property.
"After yesterday's debacle, Trent decided that Paris, Prince and Blanket needed extra protection from Jermaine, Randy and Janet," an insider told Radar. "He doesn't want Michael's kids snatched from the home – so he's told security at the front gate to refuse entry to all that aren't invited.
"Trent also felt it was in the kids' best interests to make sure they have extra bodyguards with them at all times whenever they are out of the house.
"He's very concerned that an elaborate kidnap could be planned," the close source revealed.
As RadarOnline.com previously reported, Jermaine, Randy and Janet Jackson were barred from their mother Katherine's home after attempting to remove their brother Michael's three children on Monday evening.
Article continues below advertisement
"It was just total chaos when Jermaine, Randy and Janet descended on the house," a source close to the situation revealed.
"Randy was telling Prince Michael he had to leave with them and that he had a private jet chartered to take them all to Arizona to see Katherine. Prince firmly held his ground and told Randy he wasn't going anywhere with them. The security detail prevented the three of them from taking the kids out of state. The cops had to be called and Janet kept saying they had a legal right to be at the house when in fact they don't. The rental house is in the name of Michael Jackson's estate, so they were told to leave immediately. "For the time being, they won't be allowed to come back to the rental house and guards at the security gate have been told under no circumstances are they to allow them in. Paris was absolutely hysterical and kept telling her uncles to just bring her grandmother home."