Exclusive
Tito Jackson's Son, TJ, Seeking Temporary Custody Of Michael Jackson's Kids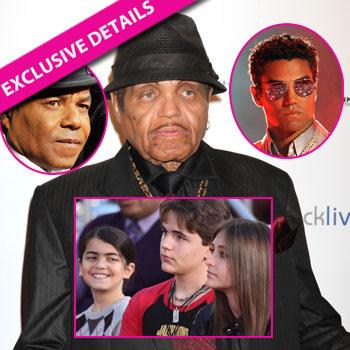 Article continues below advertisement
"Michael's kids all want TJ to become their temporary guardian," a source close to the situation tells RadarOnline.com. "They trust and love him. Of course, they want Katherine to come home, but they don't have any control of that at this point and just want the drama to stop. TJ's father, Tito, is now having serious regrets about signing a letter with his siblings asking the executors of Michael's estate to resign. Tito now sees that his siblings are only after money and he wants no part of it."
Paris, Prince Michael and Blanket met with their court appointed attorney, Margaret Lodise on Monday evening after Jermaine, Randy and Janet attempted to remove the kids from their home and take them to Arizona.
"Margaret went to the house on Monday evening as a meeting with the children was requested," a source close to the situation previously told RadarOnline.com. "This came after Jermaine, Randy and Janet tried to take them out of state. Katherine has now been out of the picture for over a week and legal options are now being pursued in order to ensure that the children are safe."
Article continues below advertisement
Katherine Jackson has been in Arizona for more than a week and hasn't talked to her grandchildren during that entire time. Last night, Paris Tweeted, "8 days and counting . something is really off , this isn't like her at all .. i wanna talk directly to my grandmother!!<|3"
Tuesday morning, Paris fired off another Tweet: "9 days and counting... so help me god i will make whoever did this pay".
"Michael's children will remain together, that is absolutely certain. The estate just wants to ensure that the children are safe, and away from all of this Jackson family insanity," the source says.